China seeks to relax entry rules for foreign investors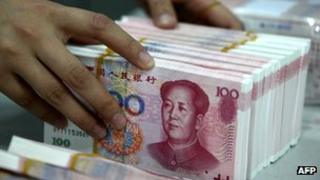 China's securities regulator has sought to ease entry rules for foreign investors, the latest step in its bid to open up the financial market.
It has proposed lowering the amount of assets under management and cutting the minimum number of years of experience needed for firms entering its markets.
The government is trying to attract foreign investment in a bid to stimulate new economic expansion.
China, the world's second-largest economy, has seen a slowdown in growth.
China's Securities Regulatory Commission (CSRC) said in statement that the move will help to attract long-term offshore funds, "strengthen confidence in the domestic market" and promote the "steady development and opening up of our country's capital markets".
Relaxed limits
Companies looking to enter China's capital markets have to apply for a licence under the Qualified Foreign Institutional Investor (QFII) programme.
The firms have to meet various criteria before they are issued the licence to operate as a QFII.
In its proposal, the CSRC has said that it will lower the limits on those criteria, including cutting the amount of assets under management to $500m (£320m) from the current requirement of $5bn.
The firms will also be required to have just two years of prior experience rather than five.
It said it will also make the process of applying for a QFII licence simpler for companies.
More options
Along with relaxing the rules, the commission said it will also open up more options for foreign investors.
It said that QFII's should be allowed to invest China's tightly-controlled interbank bond market.
The CSRC has also proposed to raise the limit on the combined stake foreign investors can hold in a listed Chinese company to 30% from 20%.
However, some analysts said that while the move was a step in the right direction, China's policymakers needed to do more to attract foreign investors.
"Raising the stake limits from 20% to 30% means that foreign investors still have effectively zero control over the firm," Patrick Chovanec of Tsinghua University in Beijing told the BBC.
Mr Chovanec said that to attract more investors, China needs to allow them to have controlling stakes in listed companies, or give them significant minority shareholder rights.
"That is what will bring in competition and change the dynamics of the Chinese economy."