Ex-banker admits taking bribes from Bernie Ecclestone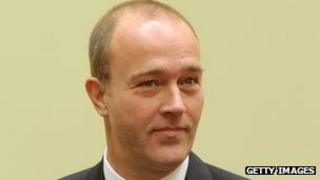 Former banker Gerhard Gribkowsky has admitted to a court in Germany that he took $44m in bribes from Formula 1 president Bernie Ecclestone.
Mr Gribkowsky was speaking seven months after Mr Ecclestone gave testimony to the Munich court under immunity.
Mr Ecclestone said he had paid Mr Gribkowsky to avoid a UK tax inquiry into the sale of Formula 1 in 2006, but denied the payments were bribes.
Mr Gribkowsky's admission should reduce his maximum jail term to nine years.
Mr Gribkowsky, the former deputy chief of regional bank Bayern Landesbank (BayernLB), would otherwise have faced up to 15 years in prison if found guilty of corruption and abuse of trust.
In 2006, BayernLB sold its stake in the motor sport to private equity group CVC Capital Partners, which still owns the commercial rights to Formula 1.
At the time, Mr Gribkowsky was in charge of the sale.
He told the court that prosecution claims that he had corruptly received $41.4m in bank commissions, and a large payment via a family trust from Mr Ecclestone, were "essentially true".
Ecclestone testimony
In his testimony, Mr Ecclestone had said that he was worried that, if he had not paid, Mr Gribkowsky would have alerted the UK tax authorities to "things" that might have led to a tax inquiry.
"The only alternative was that the British tax authorities followed a case that would have been very expensive for me," he said.
"The tax risk would have exceeded £2bn," said Mr Ecclestone. "I paid him to keep calm and not to do silly things."
Private equity firm CVC bought majority control of F1 from Bernie Ecclestone's family trusts and a group of investment banks.
Mr Ecclestone remains F1's chief executive and retains a large shareholding in the sport.