Rupert Murdoch's News Limited in $2bn CMH takeover bid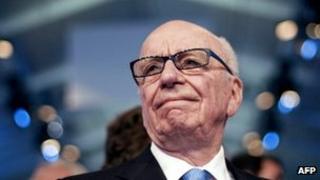 Rupert Murdoch's Australian holding company News Limited has bid $2bn (£1.3bn) for James Packer's Consolidated Media Holdings (CMH).
The move is being seen as an attempt by Mr Murdoch to further strengthen his position in Australia's media sector.
A successful bid will give News Limited a 50% stake in Australia's dominant pay-TV business, Foxtel and 100% control of Fox Sports.
CMH shares rose more than 10% after the takeover bid.
Mr Packer said in a statement that he welcomed the proposal and "looks forward to Consolidated Media and News working together to address the detailed terms and conditions".
All about sports?
If the takeover is successful it will see News Limited and Telstra, Australia's leading provider of telecommunications and broadband internet, have equal stakes in Foxtel.
Analysts said the combination of these two firms will give Foxtel increased fire power to acquire lucrative television rights for major sporting events.
"Telstra and News Corp together have cheque books bigger than anyone else here," said Peter Warnes, at research firm Moringstar.
He added that the deal may also see more sporting events move to the pay TV service, giving a boost to the network's earnings.
"We see Foxtel as Australia's BSkyB," he said.
Win-win situation
Mr Packer and Mr Murdoch share a long history of media ownership in Australia.
Both inherited their media interests from their fathers but have taken completely different paths in the past few years.
Mr Murdoch has expanded his media operations not only in the domestic Australian market, but also in overseas territories such as the US and UK.
On the other hand, Mr Parker has been seeking to reduce his interests in the media sector and has concentrated on expanding his casino business instead.
Analysts said that the takeover was a win-win situation for both the parties.
They said that while the deal helps Mr Murdoch gain control of one of the most dominant pay TV networks, it gives Mr Packer deeper pockets to fund his expansion plans.
"It frees up more cash and gives him a bit more flexibility," said Paul Xiradis, managing director of Ausbil Dexia.