Five months of searching for jobs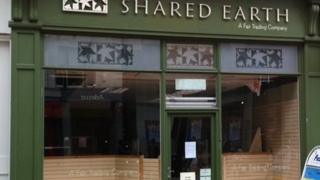 The Shared Earth shop in the centre of Birmingham closed its doors for the last time on 15 January after 20 years of selling fair trade products including jewellery, crafts and gift-cards. The BBC's Michael Buchanan has been finding out how successful the eight former employees have been in finding new jobs.
Amid the throngs of office workers out to buy their sandwiches one recent bright lunchtime, four former employees of Shared Earth gather outside the store where they once worked.
The air is heavy with regret.
"To see the shop dark and empty is quite sad," says Clare Bishop.
She had worked in the shop for the longest, more than a decade, and has been looking for part-time work since it closed.
"I've printed off hundreds of CVs and been up three High Streets, physically taking in CVs to the shops," she says.
"The money I earned working for Shared Earth was my own money - I don't like having to ask my partner for money. I'm bored - I need to get out of the house."
'On the scrap-heap'
Janet Millerchip also used to work part-time and, despite being 66 years old and eligible for a pension, she is also looking for work.
"It's a reason to get up in the morning, do your hair, put your make-up on," she says.
"But there is nothing for me, I'm on the scrap-heap. I still think I can give something."
The shop's former manager, Kate Strafford, seems to have been hit hardest by unemployment.
It is the first time in 44 years she has been without work.
"I'm depressed - I haven't been sleeping - I've lost about a stone and a half in weight."
She says she goes through a range of emotions. "When I feel really down, I'm thinking they want someone experienced but half my age," she says.
"Then I start thinking someone will take me on with my experience and accept my age. I'm 59 not 89."
'Let down by everything'
John Faber, 30, was the supervisor in the shop. He's also still looking for work, and faces the same problem as many unemployed people.
"I'm over-qualified for the sales assistant jobs and there are hundreds of people going for one managerial job. I feel quite let down by everything at the moment."
One former employee who couldn't make the lunchtime meeting was Sushan Dasgupta.
He was at his job as a shift leader at a branch of Subway that he'd previously worked in.
He is the only one of the shop's former employees who has managed to find a full-time post.
"I was without a job for five weeks. I didn't find it difficult to find work. If you have good experience, good references, if you have proved yourself before, it's not very hard."
Two other former employees of the shop couldn't meet up. Both worked part-time in Shared Earth. One has found another job, albeit on reduced hours, while the second is still looking.