Spanish borrowing costs jump at debt auction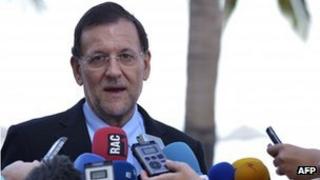 Spanish borrowing costs on 12 and 18-month bonds jumped to 5.1% at its first debt auction since securing a 100bn euro ($126bn; £81bn) bank bailout.
Madrid raised the intended 3.04bn euros but the interest rate payable rose from 3% at a similar debt sale on 14 May.
The government has denied that a more detailed independent audit of bank debts is to be delayed.
The first audit, which will determine the size of bailout needed, is due to be published this week.
On 9 June, the eurozone agreed to provide up to 100bn euros in emergency loans to help bolster under-capitalised Spanish banks, which were hit hard by the collapse of the country's property market.
The eurozone's fourth-biggest economy is struggling to finance its debt on commercial bond markets.
On Monday, the interest rate, or yield, on benchmark 10-year bonds traded on the secondary market hit a record high of 7.1%. Rates higher than 7% are widely seen as unsustainable.
Greece, Portugal and Ireland all had to seek international aid to pay their loans when their bond yields hit similar levels.
Spain is only paying these punishing interest rates on new loans from the markets. However, due to the country's worsening economic outlook and falling tax receipts, the government will be forced to raise more funds from the bond markets.
The BBC's economics editor Stephanie Flanders said investors should be less worried about the number on Spanish bond yields and concentrate on the underlying sentiment.
"The spike in yields isn't only telling us that their debt is now perceived to be more risky. It could also be telling us that a rising number of investors do not want to buy it at any price. That really is something worth losing sleep about," she said.
Madrid is due to sell up to 2bn euros in two, three and five-year bonds on Thursday.
Spanish bailout
This debt auction should coincide with the publication of the findings of the first audit into the size of bad debts incurred by Spanish banks.
Some lenders borrowed large amounts on the international markets to loan to home buyers and property developers.
The sharp downturn in Spain's property market means many borrowers are now unable to pay back their mortgages. That, in turn, means many lenders are neither able to collect the money they are owed nor pay back their own creditors.
It was reported earlier on Tuesday that the accounts were so complicated that the results of a second, more detailed audit of Spanish banks was to be delayed from July to September.
But the economy ministry has denied that the publication would be delayed.
It is hoped that the final bill for bailing out the banks will not exceed the 100bn euros already promised.
The money will come from two funds created to help eurozone members in financial distress - the European Financial Stability Facility (EFSF) and the European Stability Mechanism (ESM), which comes into force in July.