Imagination Technologies' full-year profits rise 53%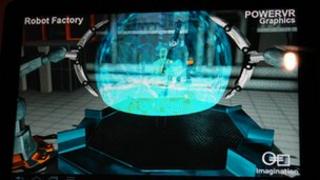 Imagination Technologies, the British company behind the graphics for the iPad and iPhone, has posted a 53% rise in full-year profits.
Imagination made £36.8m ($57.7m) in adjusted pre-tax profits on revenues up 30% to £127.5m for the year to 30 April, the company said .
The number of graphics and video technology computer chips shipped rose by a third to 325 million.
Imagination also makes the "Pure" brand of digital radios.
Imagination, based in Kings Langley, Hertfordshire, earns royalties from licensing its intellectual property (IP) to technology partners such as Intel and Samsung.
Chief executive Hossein Yassaie said: "Despite the global economic environment, over one million devices are now being shipped with our IP daily.
"We remain very confident of our continued good progress given the growing demand across our IP families, the growth in design wins across a widening range of end-user markets, and the momentum in our partners' chip volume."
Convergence
The firm's graphics technology can be found in mobile phones, tablet computers, games consoles, cameras, digital radios and TV set-top boxes.
New licensing partners added during the year included big-name brands, such as Qualcomm and Huawei.
Mr Yassaie maintained that the company's goal of achieving one billion unit shipments a year by 2016 remained "a realistic objective."
Imagination has benefited from the convergence of personal computers and the new generation of high-powered smartphones boasting high-definition screens.
In 2001, it launched the world's first portable digital radio and has been expanding the Pure range ever since.
But take-up in the UK has been hampered by slow adoption of the DAB digital radio standard.
The UK market remained "soft", the company said, but was being off-set by strong overseas growth.
The company is trying to expand into audio streaming and this month took a 10% stake in UBC Media, the audio and video content producer.
Imagination's shares were down 5% in mid-morning trading, but up 5.4% for the year overall.