AIJ president arrested in $1.4bn pension scandal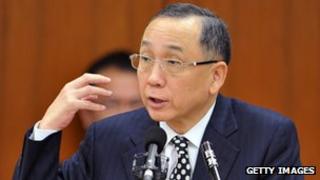 The president of AIJ Investment Advisors and three others have been arrested for fraud relating to 109bn yen ($1.4bn) of missing pension funds.
AIJ managed money for more than 100 companies but was stripped of its registration in March after failing to account for most of its clients' funds.
Japanese prosecutors said 7bn yen of the missing money was stolen from clients.
More than 880,000 policy holders have been affected by the losses.
Tokyo police confirmed that AIJ's 60-year-old president Kazuhiko Asakawa and another AIJ executive had been detained early on Tuesday. The president of AIJ's sales agent ITM Securities, Hideaki Nishimura, and one other are also being held on fraud charges.
'Conspiracy'
A police spokesman said the three men and a woman had "conspired to defraud cash in the name of pension fund management" and lied to clients in June and July 2011 by saying the retirement assets
had steadily risen in value when, in reality, they had tumbled.
Mr Asakawa has publicly admitted that he inflated investment returns but has denied that he tried to deceive clients.
"I didn't want to use inflated figures for the pensions fund, but [I did because] I did not want to come back with losses, no matter what," he told a parliamentary panel investigating the matter earlier this year.
The scandal is the latest to hit Japan. As a result, there have been calls for changes to the way Japanese firms govern themselves.
At the end of last year, the country was shocked by the news that camera maker Olympus had hidden $1.7bn in losses for as long as 20 years.
Low returns
Japan has the world's largest population of old people, the longest average life expectancy and the world's longest periods of paid retirement.
That means Japanese pension fund managers are facing pressure to provide high rates of return, despite the fact that the country's economy has experienced weak growth for two decades.
Some funds are required to provide a return as high as 5.5% at a time when returns on safer investments such as lending to the government are at record lows.
Over the past decade, the Japanese economy has grown at a nominal rate of between 0% and 1%, while the yield on the 10-year Japanese government bond is 0.8%. The Bank of Japan's deposit rate has remained near 0% since 1995.