Are British strawberries under threat?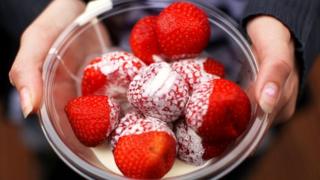 About 28,000kg of English strawberries are expected to be eaten at Wimbledon, despite poor weather affecting crops. What lies ahead for the British strawberry season, which now runs for six months of the year?
Eating a punnet of strawberries with cream at Wimbledon is a British tradition, and the fruit has been sold this way for hundreds of years.
In the 16th Century cone-shaped straw baskets were the preferred method of sale, making them one of the earliest packaged foods.
Their sweetness and "quintessential Britishness" is widely loved by many chefs, including Valentine Warner .
"I don't think I've ever met anyone in my life who doesn't like them. It's an iconic British thing to enjoy summer sports and eat strawberries with cream sliding down the side," he says.
In terms of cooking, Valentine Warner says you cannot beat a really cold fresh strawberry milkshake, sorbet or scones with strawberry jam , but his favourite is something else.
"A really good sponge with whipped cream and strawberries on top would have to be my favourite cake in the world," he says.
But could this be the year that strawberries are missing from Wimbledon and that sponge?
British strawberry growers in some parts of the country are having their worst season in years. The British season begins in late-April and runs until October. Recent wet weather has cost some farmers hundreds of thousands of pounds, BBC Radio 4's Farming Today reports .
Strawberry grower Sandy Booth, from Hampshire's New Forest says his crop usually produces more than 2000 tonnes. But he says he's probably lost between 50-100 grammes of berries per plant due to the weather in recent months.
"I think it's one of the most difficult seasons I have ever had in 20 years of doing this... as the weather is not one thing or another at the moment," he says.
"If we've got lots of strawberries - we need it to be nice and sunny outside to drive sales, if it's cold and wet, then people are thinking more about soups and stews than they are thinking about strawberries and cream," he says.
British strawberries account for 100% of the fresh strawberries sold in the UK during peak season, but the chairman of British Summer Fruits Laurence Olins agrees the season has been "challenging".
He says the season is running two to two-and-a-half weeks late compared to 2011, and "we are at least 25% behind in volume than on last year".
But despite this supermarkets are fully stocked with British strawberries.
"What has happened is that due to the cool weather, the crop has been well spread," Mr Olins says.
"We have crops grown from the south coast right up to Scotland. If it is warm in Scotland then everything can come in a rush, but... demand and supply this year is very even."
Despite a 45% increase in production in the UK with 4,969 hectares of strawberries grown in 2011, Britain still relies on imports from Spain, Israel, Morocco, Egypt to meet growing consumer demand for fresh berries for the rest of the year.
Twenty years ago British strawberry season lasted for six weeks, but now it runs for six months, says Laurence Olins.
Now 90% of British crops are now grown in polytunnels, safeguarding what was previously seen as an unreliable crop due to its poor tolerance of disease and bad weather.
Until a few years ago imported berries dominated shelves. Elsanta was the most popular variety because of its resistance to disease, long shelf life and reliability, but the orange-red berry came in for criticism for being "tasteless".
According to British Summer Fruits 60% of fresh strawberries sold are still elsanta, although polytunnels have enabled farmers to experiment with different varieties.
"The dominance of elsanta is slowly being eroded... it is still is the most widely grown variety in northern Europe as a whole, but there's certainly more choice available on supermarket shelves than there was five years ago," says Dr David Simpson, head strawberry breeder at East Malling Research centre.
But polytunnels are not loved by all. Countryside activists concerned at seeing acres of prime agricultural land covered in plastic have been lobbying authorities to prevent more being erected.
As UK production has grown, reliance on imports has dropped and the UK now brings in around 50% less than it did in 2007, which pro-polytunnel campaigners say means locally-grown strawberries have a lower "carbon footprint".
However shop-bought strawberry jam, yogurt, ice cream, compote, and frozen desserts are generally not made with British strawberries.
A large proportion of strawberries are frozen imports mainly from China, The Netherlands and Poland.
China's market has grown more than 1,000% over the past decade, with it now the second largest producer of strawberries in the world, behind the market leader, the US.
China's production has been boosted by cheap land, cheap labour, tax breaks and government policies aimed at encouraging agriculture, and its low production costs means it can undercut other countries.
Poland, Britain's former main supplier, has seen its frozen exports plummet since 2005 after years of bad weather, and cheap Chinese imports flooded Europe.
In 2006, as a result of complaints led by Polish growers, a 34.2% tariff was implemented by the EU on frozen Chinese strawberries.
But in April the EU Commission announced that it would revoke the anti-dumping measures, leaving the market open to a flood of cheap strawberries from China.
Even with the tariff in place, Food and Drink Federation figures show frozen strawberry imports from China increased by 63% between 2010 and 2011, and the nation is putting significant energy into producing even more.
"There's obviously quite a lot of investment going into strawberry production in China... so they obviously see it as a big growth area... lots and lots of good research is being done in China," says Dr David Simpson, who attended a 2012 international strawberry conference in Beijing.
What does this mean for the UK market?
"At the moment Chinese consumers are keen on strawberries and there's an increasing middle class in China, so demand is outstripping supply for fresh strawberries, but in the foreseeable future there will be more increases in strawberry production in China," Dr Simpson says.
"Looking further ahead, they may want to compete by exporting that fruit to different parts of the world but at the moment their infrastructure doesn't make that feasible," he says.
With fresh Chinese strawberry imports some way off, it is climate and labour costs that remain the biggest current threats to British strawberries, according to Laurence Olins.
But the market is growing 10-15% a year, and fresh berries are now consumers' most popular fresh fruit. And the good news for strawberry lovers is that prices are not expected to go up.