Ford staff begin 24-hour strike in pay and pension row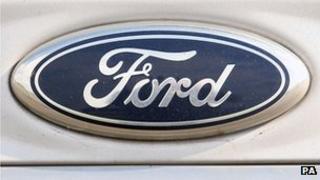 Staff at car company Ford are staging a 24-hour strike in a dispute over pay and pensions.
Sites at Dagenham in Essex, Bridgend in South Wales, Halewood on Merseyside and Southampton will be affected.
The Unite union said staff were "furious" at plans to shut the final salary pension scheme to new starters and lower their pay rates from 2013.
A Ford spokesman said "the vast majority of the company's employees are not involved in this disagreement."
Unite, which represents about 1,200 white-collar employees at the car manufacturer, said 67% of staff voted in favour of industrial action after a ballot in May.
Unite national officer Roger Maddison said: "Our staff members will not stand by and allow Ford to create a two-tier workforce on pay and pensions. To date, Ford has failed to make any genuine attempts to resolve this dispute.
"We fiercely oppose the closure of Ford's final salary scheme to new entrants because we believe ultimately Ford will try to close the entire scheme."
The dispute does not involve production workers, but Unite said it believed the walkout would affect production.
A Ford spokesman said: "The issue giving rise to the industrial action relates to a disagreement between the company and a particular group of its employees in relation to their ongoing pay and benefit negotiations.
"Ford remains willing and available to continue discussions with the union representing these workers."