Majestic toasts rise in profits as sales increase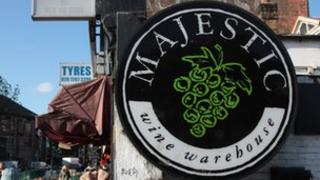 Majestic Wine has reported a 14% rise in annual profits as it continues to enjoy increasing sales.
Its pre-tax profit for the year to 2 April totalled £23.2m, up from £20.3m a year earlier.
Like-for-like sales, which pull out the impact of new store openings, rose 2.6%. Its total revenues increased by 9% to £280.3m.
Majestic said that sales of fine wine - bottles more than £20 - rose 18.5%, and now represent 6.2% of UK store sales.
However, Majestic said like-for-like sales growth slowed to 0.6% in the first 10 weeks of the new financial year, and said that the trading environment would continue to be challenging. Trading for the period last year included the royal wedding.
The firm opened 16 new stores during the year, bringing the total to 181 across the UK. Majestic has ambitions to open more than 300 outlets eventually.
The company recently halved the minimum number of bottles of wine that customers must order online to get them delivered, down from the previous requirement of 12 to six.
Majestic chief executive Steve Lewis said the firm had "proved resilient in a challenging economic environment".
Majestic's share price, down 1.5% immediately the markets opened, was subsequently up 0.5% about 30 minutes into the trading day.