China property prices drop further raising growth fears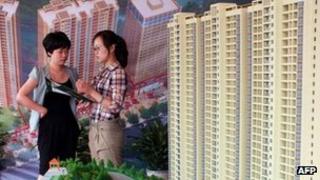 Property prices in China fell further in May indicating that government policies put in place to curb speculation are having the desired effect.
Prices of new homes fell in 55 of 70 Chinese cities from a year earlier.
Beijing has been trying to curb property speculation amid fears that asset bubbles may be forming.
However there are concerns that if prices fall too much too soon, it may hurt China's overall economic growth.
"There is a huge amount of downward pressure on the property market that stems from the fact that all the administrative measures remain in place and at the same time growth in China is slowing," Alistair Thornton of IHS Global Insight told the BBC.
Over-tightening?
China has put in place various measures over the past couple of years to curb speculation in the market.
These include a restriction in some cities on the number of homes an individual can own and higher down-payments for property purchases.
Analysts said that while the moves had helped keep prices in check, there are concerns that they may now start to hurt growth in the sector.
"There is a real risk that the authorities may have over-tightened in the property market and the overall economy," said Mr Thornton.
"The property market continues to weigh on economic growth and will be a drag on the economy through to end of the year."
In a fix
The fall in China's property prices comes as its economic growth has been slowing.
The world's second-largest economy expanded at an annual rate of 8.1% in the first quarter, the slowest pace in almost three years.
In a bid to sustain growth, China has been easing some of its monetary policies. Earlier this month, China's central bank cut interest rates for the first time since 2008.
The bank has also reduced the amount of cash that banks must keep in reserve three times in the past few months to encourage more lending.
However analysts said that while China was expected to relax its policies further, there were worries that such moves may spark fresh round of speculation in the property market.
"The broad goal is to stimulate the overall economy enough to achieve about 8% growth this year but keep the property market subdued," said Mr Thornton.
He said that if curbs on the property market were lifted, large amounts of capital might flow into the sector, which may result in asset bubbles being formed.
"This time it is going to be worse than the last time."