Trinity Mirror boss Sly Bailey leaves six months early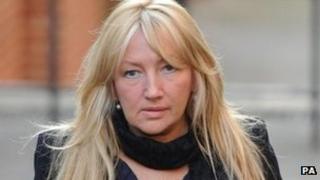 Sly Bailey, chief executive of Trinity Mirror, is stepping down with immediate effect, the newspaper group has said , six months sooner than expected.
Ms Bailey had said she would leave at the end of the year following shareholder anger over her large pay packet and deteriorating sales figures.
The group has suffered a 90% five-year fall in its share price.
Group finance director, Vijay Vaghela, will take over temporarily.
Newly-appointed chairman David Grigson said: "The company and the board are grateful to Sly for her immense contribution and leadership over nearly 10 years.
"Despite the deep economic downturn, the actions she has taken with her team have ensured the company has consistently delivered robust profits. We wish her well for the future."
Sly Bailey said: "Newspapers are a business like no other and it's been an absolute privilege to have led Trinity Mirror in this fascinating and all-consuming role."
The group, which publishes the Daily Mirror, Sunday Mirror, The People, Daily Record and Sunday Mail, as well as 160 local and regional newspapers, has struggled to cope with falling circulations and the transfer of classified advertising to the internet.
In May, the group sacked Richard Wallace and Tina Weaver, the editors of the Daily Mirror and Sunday Mirror respectively, and merged the titles into a seven-day operation.
The group's pension liabilities of about £1.7bn far exceed its current market capitalisation of £68m.
Trinity Mirror's share price was down 1.9% in mid-morning trading.