Mario Draghi says ECB ready to act 'where needed'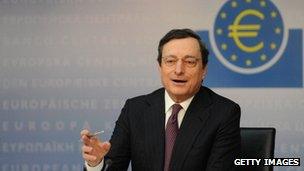 The European Central Bank is ready to provide further support to the eurozone's banking system if necessary, its president Mario Draghi has said.
"The eurosystem will continue to supply liquidity to solvent banks where needed," he told a conference.
A general election in Greece on Sunday has heightened fears of further instability on financial markets.
Anti-austerity parties are expected to do well in the poll, possibly marking the start of Greece's eurozone exit.
'Strengthened foundations'
On Thursday, UK Chancellor George Osborne unveiled a multi-billion pound stimulus programme for the economy as protection against the "eurozone debt storm".
Mr Draghi, speaking in Frankfurt, said that while financial authorities stood ready to act if necessary, it was now for politicians to take the lead.
"Political choices have become predominant over monetary policy instruments," he said.
The euro currency needed "strengthened foundations", which would mean governments relinquishing some powers over financial and economic policy to supra-national bodies.
Mr Draghi said that he and other top officials working on a longer-term vision for the euro and economic policy will have something "very soon... All the work we're doing is with a view to the next [EU] summit" at the end of June.
"The outcome will get to be known pretty soon, in a matter of days," he added.
Related Internet Links
The BBC is not responsible for the content of external sites.