Wal-Mart China accused of new food safety violations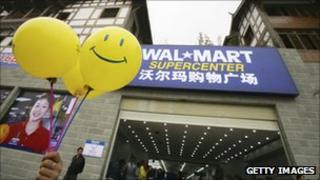 Wal-Mart China has been accused of food safety violations just months after a scandal over mislabelled pork led to the closure of stores and the resignation of the country head.
Beijing Food Safety Administration said that in March a Beijing Wal-Mart sold sesame oil and squid with dangerous amounts of cancer-causing chemicals.
Wal-Mart China could not be reached for comment.
China is one of the fastest growing markets for US-based Wal-Mart.
A separate accusation was made this week by the the animal husbandry department in the southwestern city of Dazhou that Wal-Mart stores had sold pork ribs from diseased pigs in January.
In a statement seen by the Financial Times, Wal-Mart said it had removed the pork product from shelves and was in contact with the Dazhou government.
The cases were only made public this week, as it is food-safety week in China.
The problems come as Wal-Mart is trying to recover from a food scandal last year.
In October, Wal-Mart stores in Chongqing were found to be selling ordinary pork labelled as expensive organic pork.
Two store managers were arrested in connection with the case and the management team in China was restructured.
Food safety continues to be an issue in China, and analysts say foreign companies are often more harshly dealt with by authorities.