Esprit shares slide further as its chairman steps down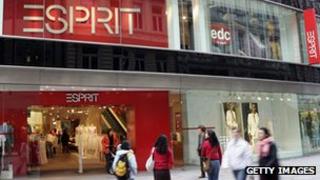 Shares of Esprit have fallen further after its chairman Hans Joachim Korber became the second senior executive to leave the firm in as many days.
His departure comes just a day after the firm said its chief executive Ronald van der Vis had quit.
Its shares fell as much as 14% to HK$ 9.03 on the Hong Kong Stock Exchange on Thursday after sliding 22% on Wednesday.
The firm has been trying to restructure its business amid falling profits.
"Resignations of the top two executives are not a good sign," said Francis Lun, Managing Director at investment firm Lyncean Holdings.
"The stock is set to face pressure in the immediate run as investors lose faith in the company."
Takeover target?
The clothing retailer has seen its fortunes plummet in recent times.
Its sales in Europe, its biggest market, have been hurt by a drop in consumer demand in the region.
At the same time, its attempts to increase its share in the US market have not yielded the desired results. In fact, it has announced that it will shut all its stores in North America and focus on expansion in Asia instead.
Earlier this year, it reported a 74% drop in profit for the July to December period, versus a year ago.
All of these factors have helped to drag down its share price by more than 65% over the past 12 months.
Analysts warned that the sharp decline in its value make the company a possible takeover target.
"As the stock falls, it could easily become an acquisition target by rivals or private equity funds," said Mr Lun of Lyncean Holdings.