Felda to raise $3.1bn in share sale, reports say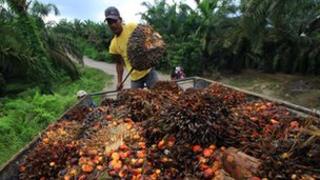 Palm oil company Felda Global Ventures is set to raise $3.1bn (£2bn) in a share sale in Kuala Lumpur, reports say, the second biggest initial public offering globally this year.
The Wall Street Journal and the Reuters news agency, citing unnamed sources, said the company had priced its offering at 4.55 ringgit a share.
This is at the top end of expectations.
Felda has attracted strong domestic demand, despite share listings elsewhere being scrapped or delayed.
Palm oil is used in a wide variety of goods including cosmetics, food and fuel.
Institutional money
Felda is the commercial arm of the Federal Land Development Authority and was established in 2007.
Felda, which is selling 2.19 billion shares, had given an indicated price range of 4.00-4.65 ringgit a share for the flotation.
The listing is scheduled for 28 June on the Malaysian Stock Exchange.
There have been a number of delayed or cancelled share sales in recent months as investor appetite for initial public offerings has waned.
Last month, UK-based jeweller Graff Diamond cancelled its $1bn listing in Hong Kong, citing weak demand.
However, analysts say domestic demand in Malaysia's equity markets has held up well.
"There's a large pool of institutional money in Malaysia looking for investment opportunities," said John Doyle from UOB Asset Management in Singapore.
"You're finding a fair bit of demand for new issues coming from domestic institutions and that's the single biggest differentiator."