Rent, debts and pensions: Financial issues in your 20s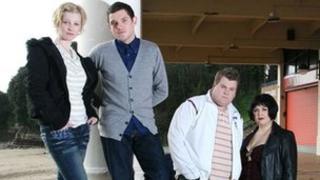 On Father's Day this Sunday, sons and daughters across the UK will be thanking their dads for all their support over the last year.
A raft of reports and statistics over recent days suggest that they have much to be grateful for.
More and more twenty-somethings continue to live with their parents, and others require help to raise money to buy a home. The financial pressures of families are leading some parents to continue to work beyond state pension age.
But rather than simply sponging off their parents, data suggests these are tough times for young adults to set out on their own.
Home truths
Charlotte Davis, a 28-year-old professional working in the charity sector in London, recently told the BBC that rent rises had led her to move home every year since 2008.
"I can't even think of saving a deposit for a flat, it is so unattainable for me or my friends. Young people are getting frustrated because we are so vulnerable."
In the capital, the cost of renting has risen by 4.5% in the past year to an average of £1,032 per month, according to LSL Property Services.
This rise has left rents 46% higher in London than the national average, even though costs have been rising in the rest of the UK as well.
The LSL survey also suggested that the level of arrears among tenants had worsened, with nearly 10% of all rents late or in arrears.
Such rising costs and financial difficulties have been a factor in the increase in stay-at-home youngsters.
A striking official statistic revealed that between 1997 and 2011, the number of 20- to 34-year-olds living with one or both of their parents had risen by 20%. This had happened despite population levels in this age group remaining static.
One in four men and one in seven women in this age bracket lived with their parents last year - a total of three million young people.
Locked out
A report published on Wednesday by the Joseph Rowntree Foundation suggested that parents ought to keep setting places at the dinner table for their children for some time to come.
It predicts that the number of 18- to 30-year-olds unable to afford to leave their parents' home will rise to 3.7 million by 2020.
"In 2020, young people will be further marginalised within a badly functioning housing system," the charity's report says.
The authors suggested that rental costs would rise. This will make it increasingly difficult for youngsters - some of whom will be saddled with student debts already - to save for a deposit to buy a home.
For some, that will mean an application for an interest-free loan from the "Bank of Mum and Dad", according to research by one of the UK's largest mortgage lenders, the Halifax.
Its survey suggested that a third of parents had made a financial contribution to help their children get on the property ladder.
As choosy lenders ask for bigger deposits, so the amount parents are lending has risen, the survey claims.
The Halifax estimated that the financial input from parents had risen by 31% in the last five years to £12,846.
"Despite concern for their own financial future, parents continue to stump up a contribution or welcome their children back to the nest to allow them to save," says Stephen Noakes, mortgage director at the Halifax.
Tips when starting work
All of this comes as youth unemployment - that is jobless 16- to 24-year-olds - stands at more than a million in the UK.
Those who have found a job can take steps to ease the financial burden for themselves and their parents, according to the Money Advice Service.
The service, funded by the financial services industry, suggests:
Budgeting for the wait until payday - some will be getting paid each month for the first time; the low-paid can claim benefits to help bridge the gap until the next month's pay cheque
Keeping an eye out for savings - many employers offer discounts on items ranging from insurance to magazine subscriptions
Checking the tax code - young people are likely to be on an emergency tax code for their first job, but tax that has been overpaid can be claimed back; employers should help with the paperwork
Plan for the future - the state pension is unlikely to be sufficient without being topped up by a workplace or private pension; the earlier people start saving, the better off they will be in retirement
This final point is already an issue for those approaching retirement now, especially the self-employed. Figures from the Office for National Statistics show that the number of people working beyond state pension age has almost doubled since 1993.
"Having more older people in the workforce will increasingly become the norm," says Darren Philp, policy director for the National Association of Pension Funds (NAPF).
"The problem comes when people want to retire but end up stuck at work because they cannot afford to leave. With half the workforce not saving into a pension, this is going to become a painful reality for millions.
"It is vital that we get more people planning and saving for their old age, and that they start as early as possible."
Today's young people already know that they will have to work for longer. The state pension age will rise to 66 for men and women by 2020, and then to 67 by 2028.
They are more likely to live for longer. But the question that many young people will be asking is whether they will be anywhere near as well off during that life, and that retirement, as their parents.