Royal Mail asks to be able to leave post with neighbour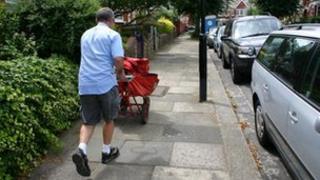 Royal Mail is applying for all its postmen and women to be able to leave large items of mail with a neighbour if the addressee is not at home.
The application to introduce the policy UK-wide follows after what the Royal Mail said was a successful trial in seven locations, including Edinburgh, Swansea and Wigan.
Royal Mail said nine out of 10 people whose post was left with a neighbour expressed their satisfaction.
Regulator Ofcom will make the ruling.
Royal Mail wants to be able to introduce the policy UK-wide later this year.
Mike Newnham, Royal Mail's chief customer officer, said the pilot scheme across almost 750,000 homes since November had been "very encouraging".
He added: "Customers welcome the convenience of having items delivered to a neighbour if they are not at home to receive them."
Robert Hammond of Consumer Focus said that leaving post with a neighbour was a good way of tacking the growing problem of undeliverable mail, as more and more people made orders via the internet.
He added: "It may not be a universal solution, as some people will not want to leave mail with people living nearby, but as long as consumers are fully aware they can opt out, then we feel the scheme could be extended further if Royal Mail wished to do so."