Inditex profits up as Zara brand expands in China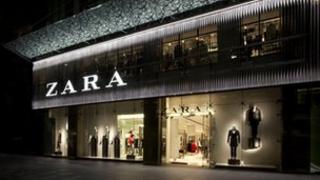 Spain's Inditex, the world's largest clothes retailer, saw net profits jump 30% to 432 euros (£347m) in the three months to 30 April.
The firm behind Zara and several other brands, including Massimo Dutti, Pull & Bear and Bershka, said international growth was behind the increase.
Sales rose 15% to 3.4bn euros, helped by expansion in Georgia, Bosnia and Ecuador.
Inditex will start selling its Zara brand online in China in September.
Anne Critchlow, analyst at Societe Generale, estimated that like-for-like sales - which strip out the impact from new store openings - rose at least 6%.
"That has continued into the first six weeks of the second quarter, May and half of June, which, when you think of what's going on with the euro crisis, is amazing," she said.
Inditex has 5,618 stores in 84 countries, and last month overtook telecoms group Telefonica to become Spain's most valuable listed company,
The retailer had been opening stores at almost one a day as it reduced its dependency on debt-laden Spanish consumers. This year, the first Massimo Dutti stores were opened in the US.
Shares in Inditex rose 8% in morning trading.