UK manufacturing output in surprise April fall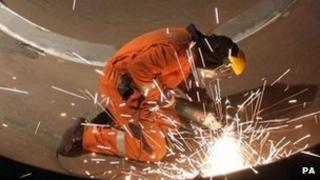 There was a surprise fall in UK manufacturing output in April, official data has shown, raising fresh fears about the wider economy.
Factory output fell 0.7% in April from the month before, said the Office for National Statistics (ONS). It follows a 0.9% rise in March.
The figure was worse than expected as analysts had predicted no change.
The Ernst & Young Item Club economic forecasting group said it was a "serious cause for concern".
Nida Ali, one of its economic advisers, added: "The figures suggest that the manufacturing sector will be a drag on growth in the second quarter, which is already expected to be disappointing due to the extra bank holiday in June.
"The outlook is also dominated by downside risks. UK manufacturers are at the mercy of the ongoing eurozone crisis and are highly vulnerable to a further slowdown in exports."
The wider reading of industrial output, which includes energy production and mining, was unchanged from March.
The most recent official data for the UK economy as a whole showed it shrank by 0.3% in the first three months of the year, more than previously though.
Following after a decline by the same level in the last quarter of 2011, the figures confirmed that the UK is back in recession.
'Very disappointing'
Within the manufacturing figures, sharp falls were seen in the pharmaceutical and food sectors, while aerospace and electronics both saw a rise in output.
The ONS figures showed manufacturing output in April was down 0.3% compared with the same month a year earlier.
Philip Shaw, an analyst at asset management group Investec, said: "The manufacturing figures are very disappointing and highlight the pressure the sector's under given the gravity of the debt crisis in the euro area, but also the lack of confidence at home."
Lee Hopley, chief economist at manufacturers' organisation EEF, said April's figure was "disappointing".
She added: "Despite the fall coming on the back of a large uptick in March this still leaves production hovering around levels seen at the end of 2010."
David Kern, chief economist at the British Chambers of Commerce (BCC) said April's fall in manufacturing output was "not surprising" given the continuing problems in the eurozone and the UK's tough deficit-cutting programme.
He added: "The immediate outlook is difficult. Our most recent forecast has indicated nil growth in manufacturing output this year and on the basis of this figure there is a risk that the sector will record a small decline in 2012."
The BCC wants the Bank of England to announce another round of quantitative easing (QE) to help boost economic growth.
QE is the policy of injecting new money into the banking system with the aim of boosting lending levels.
Last week, the Bank of England's monetary policy committee decided not to expand the QE programme and also kept interest rates on hold at 0.5%.