India rejects Standard & Poor's downgrade warning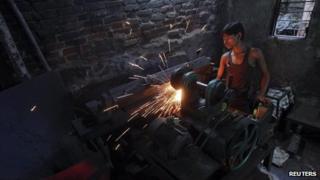 India has dismissed a warning from rating agency Standard & Poor's that it could be the first Bric nation to lose its investment grade status.
Finance Minister Pranab Mukherjee said the agency's report was "not based on a fresh rating action".
He said the government was "aware of the situation" and confident that "there will be a turnaround in the growth prospects in the coming months".
The agency blamed political leadership for the poor state of the economy.
The Bric nations include the emerging economies of Brazil, Russia, India and China.
In a report - Will India Be The First Bric Fallen Angel? - released on Monday, S&P said a division of roles between the "powerful" Congress party president Sonia Gandhi and an "unelected" Prime Minister Manmohan Singh was the main reason behind the poor state of the economy.
"The paramount political power rests with Sonia Gandhi, who holds no cabinet position, while the government is led by an unelected prime minister, who lacks a political base of his own," it said.
"Slowing GDP growth and political roadblocks to economic policymaking could put India at risk of losing its investment grade rating," the S&P said.
In April, Standard and Poor's had lowered India's rating outlook to "negative" from "stable".
India is the third-largest economy in Asia, but it has been struggling with inflation and currency weakness.
Analysts say domestic demand, which India's economy is largely reliant on, has also slowed in part due to the political upheaval in the country.
Last week, the government announced major infrastructure projects to give a boost to the country's slowing economy.