Qantas shares surge 13% on takeover defence strategy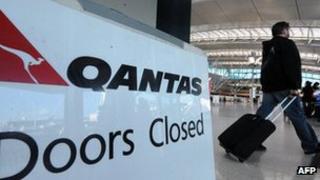 Qantas shares have surged after reports the Australian airline had appointed the Macquarie Group to help defend against any takeover bids.
Its shares have jumped 13% to A$1.1 on the Australian Securities Exchange.
Qantas shares have plunged more than 40% in the past year, falling to a record a low of A$0.96 last week, amid a dip in profits.
The firm has reportedly also set up an internal team to help with the issue.
When contacted by the BBC, a Qantas spokesperson confirmed the developments but did not provide further details.
'Attractive investment'
The airline has seen contrasting fortunes in recent times. While its domestic operations have enjoyed continued success, its international division has seen losses widen.
In an attempt to streamline its operations, Qantas announced last month that it would split its international and domestic operations into separate divisions.
Analysts said that even though the airline has been facing tough times recently, it remains a key player in the industry.
"Given the airline's record and strategic position in many markets, it would be an attractive investment at right price," Ian Thomas, aviation analyst with CAPA Consulting, told the BBC.
But he said investors would be wary of the troubles the firm has faced.
"The question is whether there will be investors who are willing to get involved with an airline which still has some unresolved core issues."
Last week, Qantas said it expects profits to fall by as much as 90% for the year to 30 June, to A$50-100m ($49-98m; £31-63m).