Eurozone ministers discuss Spanish bank rescue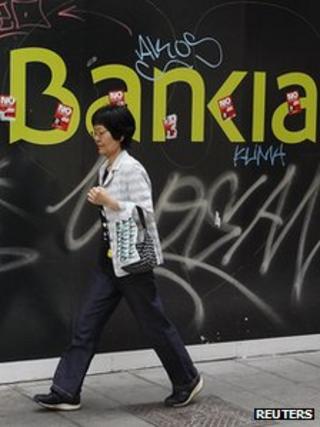 Eurozone finance ministers have held a conference call to discuss possible loans to shore up Spain's banks.
The International Monetary Fund (IMF) estimates that Spain's "vulnerable" banks need at least 40bn euros ($50bn; £32bn). But reports say the banking system could get loans of up to 100bn euros.
The Spanish economy ministry is to hold a news conference shortly.
The Eurogroup is then expected to release details of an agreement.
Spain has so far resisted pressure to ask for a bailout. Its government wants the aid to go directly to the banks.
"What we're working on at the moment is the recapitalisation of the financial entities that need it, nothing else," said Spain's Development Minister Ana Pastor.
The IMF said on Friday that a "stress test" showed that while some of Spain's financial sector was well managed, measures were needed to help those hardest hit by the property crash and recession.
"It is critical that the authorities continue to take decision action to address the weaker institutions and restore market confidence in Spanish banks," the report said.
It warned that delays would make the economic downturn worse and "damage stability more broadly".
The BBC's Tom Burridge in Madrid says it is unclear how any deal that helps the banks directly would work.
A source told the BBC that one option was a line of credit for the Spanish government, with the money coming from the European Financial Stability Facility (EFSF).
Spain is keen to avoid what is seen as the humiliation and demands for stringent cuts associated with the full-blown bailouts for Greece, Portugal and Ireland.
And because Europe's fourth-biggest economy has already announced tough financial reforms, it is likely that a deal would carry fewer conditions than previous rescue packages, our correspondent says.
'Act quickly'
In an interview on Portuguese radio, European Central Bank Vice-President Vitor Constancio said: "It is expected that Spain will formulate a request for aid exclusively for banks recapitalisation.
Jean-Claude Juncker, who chairs the Eurogroup of finance ministers, said: "The solution must come quickly."
Correspondents say Spain is being urged by Brussels and Germany to act ahead of next weekend's elections in Greece, which has led to fears of a break-up of the eurozone.
"If Spain feels overwhelmed by its financial needs, it should use the instruments which have been created for that," Jens Weidmann, the head of the German central bank, said in an interview with a German magazine.
Bad loans
Spanish Prime Minister Mariano Rajoy has so far insisted that any decision will come after the results of two independent audits of the Spanish banking system, which are due out within two weeks.
Crisis jargon buster
Use the dropdown for easy-to-understand explanations of key financial terms:
AAA-rating
The best credit rating that can be given to a borrower's debts, indicating that the risk of borrowing defaulting is minuscule.
The audits will produce a figure of how much money, in total, is needed to prop-up Spain's banking sector.
Banks are struggling with toxic property loans. The country's fourth-largest lender, Bankia, recently asked for a total of 23.5bn euros (£19bn) to help deal with losses on loans that cannot be repaid.
Many of them borrowed large amounts on the international markets to lend to developers and homebuyers, a riskier strategy than funding it with deposits from savings.
When the credit crunch hit and Spain's property boom collapsed, Spain's financial sector was plunged into what the IMF described as an "unprecedented" crisis.
Banks need to offload some 200,000 repossessed properties at a time when house prices have fallen by 25% on average. Some estimates have put the total amount of bad loans across the banking sector at about 180bn euros.
A downgrade of Spain's creditworthiness by rating agency Fitch earlier this week has been seen by some as adding to the urgency of shoring up Spain's finances.
European leaders have to make difficult decisions to steer the eurozone away from crisis, US President Obama said on Friday.
He said a deep new recession in Europe would have an impact on the US economy.
Greece's future in the eurozone was a matter for the Greek people, he said, but "further hardship" must be expected if the country chose to leave the euro.
Greeks will go to the polls on 17 June to try and end a political impasse that eurozone leaders say is harming Greece's ability to tackle its economic crisis.