Vodafone and Telefonica team up over 4G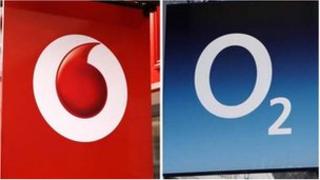 Mobile phone giants Vodafone and 02-owner Telefonica, have announced plans to create one shared grid in the UK.
The move is designed to improve existing coverage and to speed up the roll-out of superfast 4G services.
The firms say it will mean 4G mobile services, which allow users to download music and videos to their phones at high speed, can be delivered by 2015.
That is two years ahead of regulator Ofcom's requirement of 98% coverage by 2017.
The two firms will continue to compete but will pool their network infrastructure.
"Exceptional customer demand for the mobile internet has challenged the mobile industry to consider innovative solutions to building a nationwide network that will be fit for our customers in the future and support the products and services that will truly make Britain digital," said Ronan Dunne, chief executive of Telefonica UK.
Guy Laurence, Vodafone UK chief executive, said: "This partnership will close the digital divide for millions of people across the country and power the next phase of the smartphone revolution."
The deal will help keep costs down for the operators at a time when consumer spending in Europe is weak. Telefonica in particular has been under pressure to cut its debt and is currently disposing assets.
Competitive environment
The two groups already had an agreement to share new network sites but will now pool their basic infrastructure.
The deal follows the merger of rivals T-Mobile and Orange in the UK into Everything Everywhere.
"If Vodafone and Telefonica had not also embraced sharing in this way they would have been at a competitive disadvantage," said Jeremy Green, principal analyst at Ovum.
"As it was, they were able to build on and extend the relationship that they already had through Cornerstone, their existing joint venture. This sets them up well for the 4G roll-out and will help them catch up on 2G and 3G roll-out too."