UK construction sector activity 'slowed in May'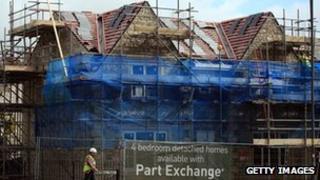 Growth in the UK construction sector slowed to a three-month low in May, according to a closely-watched survey.
The Markit/CIPS purchasing managers' index (PMI) for construction fell to 54.4 last month, from 55.8 in April.
However, the reading indicates that the sector is still growing, as a figure above 50 implies expansion.
Office for National Statistics figures found a fall in construction output in the first quarter of 2012 contributed to the economy contracting.
The latest ONS figures, released last month, indicated that the sector contracted by 4.8% in the first three months of the year.
This was cited as a key factor behind the 0.3% contraction of the economy as a whole during the quarter, which pushed the UK back into recession.
'Running on empty'?
Last week, the latest PMI survey for manufacturing suggested that the sector turned in its worst performance for three years in May, with the index dropping to 45.9 from 50.2 in April.
While the latest Markit survey indicated that the construction sector was still growing, the research firm said that new business orders and confidence about the outlook for the coming year had both fallen.
"While still in positive territory, the month-on-month fall in business confidence was the greatest since June 2010, which was when plans for the autumn government spending review were first announced," said Tim Moore, senior economist at Markit.
"This reassessment of the year-ahead outlook represents worries within the construction sector that weakening economic conditions could leave firms running on empty again once existing projects have come to completion."
Markit compiles the construction PMI survey from replies to questionnaires sent to more than 170 construction companies.