Etihad buys Virgin Australia stake as it seeks growth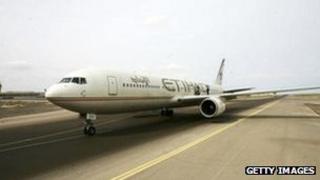 Abu Dhabi's Etihad Airways has bought a 4% stake in Virgin Australia, in a bid to expand its global presence.
Etihad said it has acquired the stake for $35.6m (£23.1m) and added that it was keen to raise its holding in Virgin Australia to as much as 10%.
This is the fourth time since December last year that Etihad has picked up a stake in another airline.
The firm said that acquiring these stakes will help it to take on rivals such as Emirates and Qatar Airways.
"We're building a strong business model. And part of that business model is partnerships," James Hogan, chief executive of Etihad, was quoted as saying by the Associated Press.
"We do have two large competitors on our doorstep. And we will never match their aircraft order book."
Further purchases?
Etihad, which started operations in 2003, has been looking to expand its operations amid growing competition.
It is expected to take delivery of almost 100 aircraft over the next eight years.
However, that would still not be enough for it to match the strength of its bigger rivals in the Gulf region.
As a result, the firm has been forging partnerships in various markets.
In December last year, Etihad raised its stake in Germany's Air Berlin to 30%.
That was followed by the Abu Dhabi carrier picking up 40% share in Air Seychelles and almost 3% of Ireland's Aer Lingus.
The firm said that it will continue to pursue this strategy and was open to doing more such deals.
"Where we see opportunities to improve our business, stretch our networks and take out costs... we'll consider those accordingly," Mr Hogan said.