Australia cuts interest rates in a bid to boost growth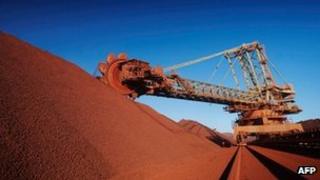 The Reserve Bank of Australia has cut interest rates for the second time in as many months amid concerns of a slowdown in Australia's economy.
The bank cut its key rate to 3.5% from 3.75%.
There have been concerns that Australia's resources-led boom may be hurt by falling demand due to a slowdown in global growth.
At the same time, domestic demand has also been stagnant despite efforts to spur consumption.
"The Board judged that, with modest domestic growth and a weaker and more uncertain international environment, the outlook for inflation afforded scope for a more accommodative stance of monetary policy," Glenn Stevens, Governor of the central bank said in a statement.
'Further weakening'
The latest cut comes just weeks after the Reserve Bank of Australia (RBA) slashed the interest rate by a more-than-expected 0.5%.
However, there has been a slew of weak economic data that has come out since then.
In China, one of the biggest markets for Australian commodity exports, both the manufacturing and non-manufacturing sectors have seen the pace of growth slow in May, raising concerns about a slowdown in its economy.
Meanwhile there have been fears about the recovery in the US economy losing its pace after it reported weaker-than-expected jobs data for May.
To make matters worse, the eurozone debt crisis has escalated in recent weeks.
All these factors have led to concerns about a slowdown in the global economy. That in turn has seen fears emerge about demand for resources falling, which may hurt growth in countries such as Australia, which rely heavily on commodity exports.
"More recent indicators suggest further weakening in Europe and some further moderation in growth in China," Mr Stevens said.
"The Board has noted previously that Europe would remain a potential source of adverse shocks."
Domestic issues
External factors are not the only issue that the RBA has had to deal with. There have been growing concerns within Australia about the health of its domestic economy, especially the non-mining sectors.
The country's housing market has seen prices fall and continues to remain subdued despite earlier cuts to the cost of borrowing.
Retail sales, another key indicator of domestic consumption, dropped 0.2% in April.
The strength of the Australian dollar has also hurt industries such as manufacturing and tourism.
The RBA warned that "both households and businesses continue to exhibit a degree of precautionary behaviour, which may continue in the near term".
Some analysts were of the view that given all the issues facing the economy, the central bank should have been more aggressive with the rate cut.
"The problem is that with the uncertainty with global economy having increased substantially recently, and domestic indicators universally on the weak side, it would make sense to do more," said Shane Oliver, chief economist at AMP Capital.
"I think they will end up cutting further."
Mr Oliver added that he expected the RBA to lower the cost of borrowing by as much 0.75% over the next six months.