Dental claim fines hit thousands
By Fiona Woods
Reporter, Money Box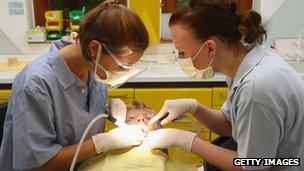 More than 8,000 NHS dental patients have been fined in the past year for claiming free treatment when they were not eligible in the last year, the BBC has learned.
The fines totalled more than a million pounds.
Some of those affected say the rules about who does and does not qualify were not made clear to them.
But the Department for Work and Pensions says that all claimants receive adequate information.
In total, 8,329 people were fined in the past year.
Vaneeta Sharma was fined £100 for claiming free dental treatment. Despite being in receipt of Jobseekers Allowance (JSA), she was not on the type that allows you to claim free treatment.
She told Radio 4's Money Box programme: "When I went to the job centre the first time, they did not make it clear that there were two types of Jobseekers Allowance."
Ms Sharma was on contribution-based JSA. This is a short-term benefit based on a person's past National Insurance contributions.
This is distinct from income-based JSA which is what a claimant receives if they still need help after six months.
While income-based JSA does entitle you to free dental care, contribution-based JSA does not.
Confusing the two benefits has left Ms Sharma facing a charge she says she can not afford.
"This £100 is a lot of money to me. I don't mind paying my dental charges but I am not happy paying this penalty charge."
The letter Ms Sharma received from the Department of Work and Pensions did not distinguish between the two types of benefit. Nor did it state that this had implications for what other benefits she could access.
Marie Clair at the Campaign for Plain English told Money Box that she would expect this information to be much more prominent: "As far as I am concerned this letter says 'I'm pleased to tell you that we can pay you Jobseekers Allowance.'
It is not until almost the last line that you understand that it is contribution-based in this instance."
Responsibilities explained
It is not just JSA where confusion can arise. Pension Credit and Employment and Support Allowance also come in two forms and only one type is a passport to free dental care.
The Department for Work and Pensions said: "We make it clear at the point of claim what type of Jobseeker's Allowance you are claiming.
Enclosed with every award letter is a INF1 leaflet that further explains the differences between the benefits and also a signpost to tell you where you can find out about other benefits you may be eligible for."
Money Box is broadcast on Saturdays at 12:00 GMT on BBC Radio 4 and repeated on Sundays at 21:00 BST.
Related Internet Links
The BBC is not responsible for the content of external sites.