Spain's manufacturing sector sees contraction worsen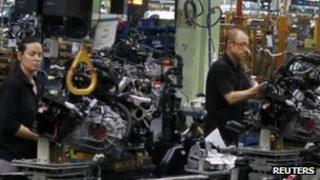 The rate of contraction in Spain's manufacturing sector was worse than that of Greece in May, according to a business survey.
Markit's eurozone manufacturing purchasing managers' index for the whole eurozone dropped to 45.1 from 45.9 in April.
Any figure below 50 suggests a contraction in the sector.
Spain's figure of 42.0 was the worst in the bloc, dropping below Greece's level of 43.1.
It was Spain's fastest rate of decline in its manufacturing sector since May 2009.
"Things went from bad to worse in the Spanish manufacturing sector during May," said Andrew Harker, the report's author.
"The ongoing lack of demand in the sector is mainly reflective of domestic problems, but the weakness in the rest of the eurozone was also reported to have weighed on demand in May."
Contagion fear
The eurozone-wide figure of 45.1 was also the lowest for three years.
Markit said this suggested the downturn in so-called peripheral countries was spreading into stronger nations such as France and Germany.
Chris Williamson, chief economist at Markit, said the figures were a cause for concern: "All four of the largest eurozone nations are now reporting worryingly sharp downturns in their manufacturing sectors.
"Eurozone manufacturers reported a deepening downturn in May, indicating that the damage to the real economy caused by the region's financial and political crises continues to spread across the region."
Firms have also been cutting jobs. The survey showed staffing levels fell for the fourth month in a row.
The European Central Bank will meet next week to talk about the level of interest rates.
It is also expected to cut its growth forecasts for this year and next.