Chilean power firm Colbun puts project on ice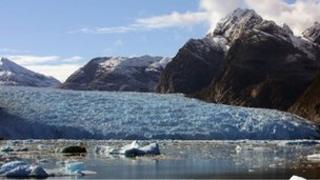 One of the two firms planning to build the giant HidroAysen dam in Chilean Patagonia has frozen the project, citing lack of government backing.
Colbun said there was no point continuing with the planning stage for the project's transmission line unless Chile's government came up with an energy strategy that had wide support.
Protestors argue that the scheme will destroy a valuable natural environment.
The dams are intended to provide a third of Chile's electricity.
The HidroAysen project involves flooding 6,000 hectares (15,000 acres) of land in order to build five dams on two rivers in a remote part of Patagonia, in the far south of Chile.
It is by far the biggest energy project in the country's history, and if built would provide about a third of all Chile's electricity.
Environmentalists object to what they say is the destruction of a region famous for glaciers, ice-fields, mountains and fjords.
They say that as well as damaging the Laguna San Rafael National Park, the project also threatens the habitat of the Huemul, an endangered Andean species of the deer family.
Colbun says it is still committed to using Patagonian rivers to produce electricity and could in theory reverse its decision.
However, the government has responded by saying it already has an energy policy. The BBC's correspondent in Chile says this suggests the HidroAysen project could be delayed for years and might never see the light of day.
Colbun's partner in the scheme, Spain's giant utility company Endesa, said it would consider its move, but that development of the project was continuing.