Go East, young person
By Michael Millar
Business reporter, BBC News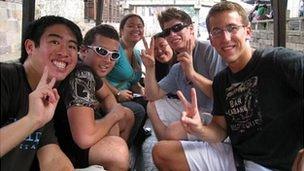 Less than a day into his work experience in Shanghai, Andrew Tichenor offended his new chief executive.
The second year university student from Seattle, USA, was just starting a summer internship in China when he was taken out to dinner by the company's senior management.
"I was sitting next to the chief executive and it was a fish dinner and I took my favourite part of the fish, which is the cheek," he says.
"It turned out this is reserved for people of high rank and standing - and being an intern I needed to eat from near the rear of the fish and the bits with more bones.
"I had to apologise to her the next day once one of my colleagues had pointed out what I had done, and make it clear I wasn't questioning her authority," he reveals.
Andrew's innocent indiscretion reveals the cultural problems that await foreigners immersing themselves in Chinese life.
But this is something that increasing numbers of western students are willing to brave each year.
The flow of would-be scholars from East to West is very well established.
Chinese government figures from 2010 show a record 1.27m Chinese students attending foreign universities.
But as the shift in economic power moves to the East, the flow is turning.
With the Chinese economy growing at a rate that western economies can only dream of, the decision to spend this summer in Shanghai at an advertising company was not a hard one for Durham University undergraduate Turan Rzazade.
"It's been like the East has been copying the West but now I think it is switching the other way round," she says.
"It will look good on my CV, it's a major opportunity to meet new people and make connections, as well as getting to know how things run in different circumstances."
Swedish entrepreneur Fredrik van Huynh is co-founder of Absolute Internship.
It is a firm that sends students, particularly from the UK and USA, to cities such as Shanghai and Beijing on work experience placements.
In the last 12 months, applications for his China internship programme have almost tripled.
"Last year we received 700 applications for our China programme," he says.
"This year we have received around 2,000 applications and are sending out more than 125 students and graduates."
Joe Hu, general manager of Shanghai-based IT firm Kakatong, has seen a surge in demand for the places he offers.
"If we go back more than five years, then few interns from other countries were interested in the Chinese market, but now we are seeing more and more students who are," he says.
The Chinese government wants to attract more than 500,000 overseas students to the country by 2020.
Chinese firms often need just as much help in finding their feet in the global market place as their western counterparts.
Foreign interns can bring great benefits to Chinese companies, says Robin Wang, director of Shanghai marketing firm SMH International.
He has taken around 20 interns over the last few years.
"We mainly assist foreign firms and also associations to enter the Chinese market," Robin says.
"This is a win-win situation: we are providing the platform for the interns while in the meantime we are learning from them.
"Sometimes they see something that is very successful in their country and they think they can use that format in our activity to promote items to the Chinese consumer - and some of those ideas have been really successful," he adds.
Those on work experience are often given duties far beyond the traditional tea run.
Having overcome his fishy faux pas - as well as adjusting to other Chinese customs such as working 10 hours a day - Andrew Tichenor found himself employed as "foreign relations assistant" to the chief executive.
"When they were talking to western clients for advertising deals, I helped with emails, presentations, dinners, or maybe any mis-steps that the CEO might take as she was going through those deals," he explains.
"It was a company of 150 people who were all Chinese, so I was handling western clients as they were coming in."
Another student, George Buhai, who also spent a summer in Shanghai on work experience, said it helped secure him a job not long after he returned.
His employers were impressed with his ability to navigate the Chinese market place and took him on in a role very similar to the one he held in Shanghai.
"Recently I went to an international fair in Frankfurt where the Chinese had their own pavilion with around 500 companies exhibiting," George says.
"China is enormous and in China there are hotspots - regions or cities that are industrialised in such a way that they are orientated towards a particular segment.
"I knew exactly where to go and what to ask and I could see my way through the problems that would occur to others," he points out.
UK Trade Minister Lord Green recently told a conference on Asian business that there used to be a saying: "Go West, young man".
"Now", he told delegates, "it is 'Go East, young person.'"
As the summer holidays begin, it seems that an increasing number of young people intend to do just that.