Blackberry maker RIM warns of loss and job cuts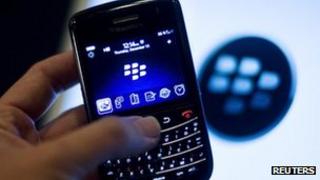 The company behind the Blackberry smartphone has warned it will make a loss in its latest quarter and make "significant" job cuts.
Research In Motion (RIM) also said it was hiring JPMorgan and RBC Capital Markets to help with a "strategic review" of the business.
It has lost ground as its traditional business clients have switched to iPhones or Android phones.
RIM shares fell 10% in after-hours trading.
Some have speculated that the strategic review may lead to a sale of the Canadian firm.
"The ongoing competitive environment is impacting our business in the form of lower volumes and highly competitive pricing dynamics in the marketplace, and we expect our first-quarter results to reflect this, and likely result in an operating loss for the quarter," chief executive Thorsten Heins said .
"There will be significant spending reductions and headcount reductions in some areas throughout the remainder of the fiscal year," he added.
'High churn'
In the last financial year, RIM made a net profit of $1.2bn, down from $3.4bn in the previous year.
Mr Heins added: "Our global subscriber base continued to grow this quarter to approximately 78 million, driven primarily by growth in international markets, which is partially offset by high churn in the United States."
Once heralded as one of the fastest-growing companies in the world, RIM has struggled to keep up with rivals in the smartphone market, such as Apple's iPhone and handsets running on Google's Android operating system.
It has also struggled to gain a foothold in the tablet market.
The launch of Blackberry 10, expected later this year, and a much-delayed new operating system, are expected to be crucial to its turnaround plan.
However, Colin Gillis, a technology analyst with BGC Financial, said it would be difficult for RIM to revive its fortunes.
"Unfortunately, it falls into the too little, too late category," he said.
"This is what happens in the technology cycle of creation and destruction. They rode the first wave of the smartphone revolution and Apple is riding the next one."
Malik Saadi, principal analyst at Informa Telecoms and Media, is more optimistic that RIM can secure its future.
He told the BBC: "One option is for the company to license out its new operating system to other handset makers.
"This would allow RIM to generate more revenues and control costs, because most of its expenditure comes from the hardware side of the business.
"Would handset makers be interested? Yes, I think firms such as HTC, Sony and LG would definitely be interested in moving away from solely using the Android operating system."