Major US law firm files for bankruptcy protection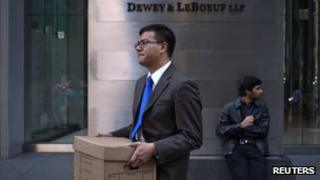 Dewey & LeBoeuf is set to become the biggest law firm to collapse in the US.
The firm filed for chapter 11 bankruptcy protection late on Monday and said it plans to liquidate its business after failing to find a merger partner.
It was hit by the economic downturn, having promised large guaranteed payments to some of its lawyers.
It ran out of cash earlier in the year, which led to the immediate resignation of the majority of its partners.
Dewey & Leboeuf was formed in 2007 by the merger of Dewey Ballantine and LeBoeuf, Lamb, Green & MacRae, which left it with more than 1,300 lawyers in 12 countries.
It has now reduced that to 150 employees, who will wind down the business.
The firm's management promised millions of dollars in guaranteed packages to about 100 of its partners, which left it unable to cope with the downturn in revenues during the recession.
"The full extent of the partner compensation arrangements is subject of continuing investigation," said Joff Mitchell, its chief restructuring officer.