Asia's wealthy fuel boom in museum construction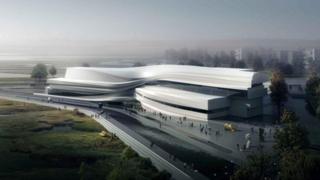 Among the new shiny shopping malls and upscale residential high rises that are the most visible hallmarks of Asia's economic boom, museums are springing up.
It's a phenomenon largely driven by a new generation of wealthy collectors keen to show off their riches and fill a gap in a region where the grand, publicly-funded museums common in Western capitals are few and far between.
The trend is particularly visible in China, where a reported 395 museums opened last year as the government's drive to achieve world status embraces culture as well as economic might.
"Asia has a very rich history and heritage so it is only natural that there should be a projection of this," says Kwok Kian Chow, a senior adviser to Singapore's National art Gallery.
Mr Kwok is also helping to set up an art museum that will be part of the 1.8bn yuan ($279m) Yellow River Arts Centre, a privately- funded facility that is scheduled to open in China's north west in 2014.
Vanity projects?
A forum held during the Hong Kong International Art Fair in May attracted more than 40 attendees who sought advice, investigated purchases and exchanged ideas in the hope their museum might become the region's equivalent to London's Tate or New York's Guggenheim.
But the process of opening a museum is fraught with pitfalls and critics say some are little more than vanity projects, with owners giving scant thought to the practicalities of running a museum and the legal, funding and staffing issues that ensue.
"There is a lot of money sloshing about in Asia and a lot of things have been forgotten that need to be remembered," says Philip Dodd, a British curator and former director of the Institute of Contemporary Arts in London, who hosted the forum.
"In this part of the world, building a museum is cheap. It's the other costs and whether they are sustainable over a long period of time."
Openings
Oei Hong Djien, a 73-year-old Indonesian tobacco tycoon, bought his first painting in 1965 and set up a museum 15 years ago almost by accident when he bought a house adjacent to his home as a place to store his collection of Indonesian art.
His OHD Museum in Magelang, Java has since expanded, with a new building that opened earlier this year that displays some of his collection of 2,000 artworks.
"Indonesia has the fourth greatest population in the world and we have a lot of great artists," he says.
"But we don't have a national museum and the government is not showing signs of going in that direction so us private collectors have to take over."
In China, Wang Wei is one of a growing number of wealthy collectors opening their own exhibition space.
The Shanghai-based Long Museum will showcase the collection of contemporary and revolutionary Chinese art she built with her billionaire husband.
Ms Wang expects the museum, named after the Chinese word for dragon, to open later this year but is hazy on many of the details including the management team, budget and admission fees.
Museums falter
Others are in the pipeline, but success is by no means guaranteed.
Xinhua, China's state news agency, reported in March that Shanghai has 16 private museums, most of which have faltered.
The Shihua Art Museum, which displayed a collection of ancient ceramic teapots, was forced to close this year after three years in operation. Zhao Yueting, the owner, had invested two million yuan after a developer promised five years' free rent. The landlord later changed his mind.
"I have been collecting ancient Chinese ceramics for nearly two decades, and some of them could be called national treasures," Mr Zhao told Xinhua. "I hoped more people could enjoy the beauty of these ancient works of art."
In China where commercial and cultural interests often overlap, museums are prized by property developers eager to give their shopping malls and residential developments a high-brow gloss.
Often they are little more than galleries, where the art on the walls is for sale.
"A museum needs a level of intellectuality. It is then it can offer a good service to the community," says Wang Huangsheng, a Chinese critic and curator and a former director of the Guangdong Museum of Art.
Cultural dynasties
Lars Nittve, a founding director of the Tate Modern in London, says the flurry of museum building in Asia is reminiscent of periods in Western history when affluent patrons of the arts built museums that are today feted worldwide.
"There was a need to understand society and culture and how it developed," says Mr Nittve, who is now in charge of a publicly- funded project to develop a contemporary art museum in Hong Kong.
In late 19th century Britain, sugar merchant Henry Tate helped construct a building to house his collection of Victorian art that he donated to the country, a move that ultimately lead to the network of museums that bear his name.
And in the US, powerful business families like the Rockefellers, Gettys and Guggenheims cemented their position as cultural dynasties by funding museums.
The burgeoning of private museums in Asia also appears to be having a positive effect on governments, at least in China, where a large number of public museums are under construction and some provinces and cities offer incentives and tax breaks for those taking the private route.
Passing on
One of the biggest concerns for the private museums owners and directors attending the Hong Kong forum was what would happen to the museums and the artwork once their deep-pocketed founders were gone.
"In China we have a short history with respect to the museum system, this means we are still short of management and other skills to carry on the museums to the next generation," says Mr Wang.
For Li Bing, the owner of Beijing He Jing Yuan Art Museum, this is a big challenge. He said his daughter is not interested in learning about art and museums.
"Her enthusiasm is not like mine," he says. "I need to find someone who can inherit the management."
Mr Oei will hand the running of his museum in Indonesia to his daughter-in-law and is confident that his sons, also successful businessmen, won't as he puts it "sell the artwork for luxury cars".
To sustain it over the long term, however, he says public funding is needed.
Of course, even with the best of intentions many of the institutions being set up today won't last long, but, if a handful are able to replicate the success of the Tate or the Guggenheim, Asia's cultural landscape will be all the richer.