Lack of raids by Serious Fraud Office questioned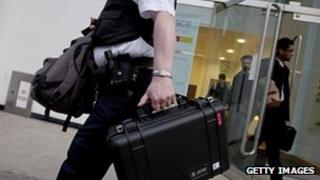 The Serious Fraud Office (SFO) has not conducted a single raid in the last financial year, according to statistics obtained by a law firm.
Based on search warrant applications, the SFO conducted no raids for the year to 31 March, compared to 47 in the previous year.
Pinsent Masons said this showed "recent warnings of dawn raids from the SFO have in fact been hollow threats".
But the SFO rejected this and pointed to five raids as recently as May.
An SFO spokesman told the BBC: "There has been a downward trend in the past year with months of no raids."
"But it's all about case life-cycle and, additionally, not all investigations need search operations."
The law firm Pinsent Masons said that, according to information obtained under a Freedom of Information request, the SFO conducted between 43 and 63 raids per financial year between 2008 and 2010.
'Questionable theory'
The law firm suggested the lack of raids was due to an "overly cautious position" following its dawn raids on the properties of Vincent and Robert Tchenguiz in March 2011 as part of an investigation into the collapse of Icelandic bank Kaupthing.
Since then, the SFO has apologised to the brothers and admitted it mishandled information pertaining to the case.
Partner Barry Vitou said: "The SFO's decision to rein back on raids during the past year could be a missed opportunity. You would expect that a financial crime agency dealing with fraud would become very active after a recession, but that hasn't been the case for the SFO in the last year."
"The SFO may be smarting from public criticism of its perceived shortcomings in the Tchenguiz case, but it is important that it is not deterred from bringing important cases."
The SFO denied the investigation into the Tchenguiz brothers had anything to do with the lack of raids.
On 16 May, the SFO arrested three men in raids in Wales and England as part of a probe into an alleged £1.6m fraud involving football club apprenticeship schemes.
"It would be wrong to interpret a reduction in search operations as a lack of appetite to vigorously investigate fraud," the SFO spokesman told the BBC.
"It is a questionable theory to suggest so. Each case is assessed on individual requirements and this includes assessing the merits of a search."
Since the Tchenguiz case, which is still continuing, there has been much speculation that the SFO will be closed or reorganised to make it more effective.