Hong Kong billionaire Joseph Lau faces bribery charge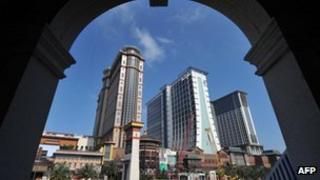 A billionaire Hong Hong-based property tycoon is facing charges in Macau of bribery and money laundering in the world's top gambling city.
The arrest of Joseph Lau comes on the heels of several other high-profile corruption cases involving politicians and real estate moguls.
Mr Lau, head of Chinese Estate Holdings, has denied any wrongdoing.
Allegations against Mr Lau surfaced in the trial of Ao Man-long, Macau's former secretary of transport.
Mr Ao was the highest-ranking official ever arrested by Macau's anti-corruption agency.
Prosecutors allege that Mr Lau and another tycoon offered a bribe to Mr Ao, in exchange for a successful bid for a valuable parcel of land.
Property values in Macau have soared in the last few years, as it overtook Las Vegas as the world's top gambling destination.
This case comes just months after Hong Kong's wealthiest property developers, the Kwok brothers, and a former senior government official were arrested on suspicion of bribery.
No charges have been filed against the brothers, but the unprecedented arrests have shocked residents in Hong Kong.
Trading in shares of Chinese Estates Holdings were suspended in Hong Kong after it emerged that Mr Lau will face prosecution.
Mr Lau's fortune has been estimated at $6.5bn (£4bn) by the Sunday Times Rich List, making him one of the richest people in the world.