Free banking a dangerous myth, says Bank official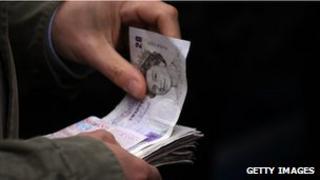 Free banking is "a dangerous myth", according to Andrew Bailey, who is due to become the chief regulator of the financial services industry.
He says customers may think their account is free, but the true costs are actually hidden.
Those hidden costs would include the extremely low interest rate that many banks offer on current accounts.
Mr Bailey - currently an executive director at the Bank of England - will take up his new role in July.
"In short, I think that the reform of retail banking in this country cannot move ahead unless we tackle the issue of free in-credit banking, and have a much better sense of what we are paying for and how we are paying," Mr Bailey said in a speech.
He said the situation also made it difficult for banks to understand the cost of the services they provide, which may have contributed to the mis-selling of financial products.
Between them, Barclays, Lloyds, Royal Bank of Scotland and HSBC are currently paying about £9bn in compensation for mis-selling loan insurance.
"I worry also that this unclear picture may have encouraged the mis-selling of products that is now causing so much trouble," Mr Bailey said.
However, Mr Bailey says it is a difficult situation for banks because the first one to start charging for accounts could lose significant amounts of business.
Speaking on the BBC's Today programme, BBC Business Editor Robert Peston said: "He's saying you can't leave it to the banks to clean-up their act in this way."
"That's why he is saying - which I think is really pretty significant because this chap is replacing Hector Sants as the senior regulator in the City of London - that either the regulators or the government actually have to intervene to end the myth of free banking."
Eric Leenders, of the British Bankers' Association, told the BBC that banks did have a clear idea of how much their services cost, but the industry would welcome a "healthy, open discussion".
New statements
The majority of customers do not pay a fee to their bank for the right to open and maintain a current account, but they are charged in other ways.
Interest rates are lower than the levels offered with savings accounts or the official rate set by the Bank of England. Charges are levied for going overdrawn without permission or for making certain transactions.
Consumer groups have argued that this has resulted in bank accounts being paid for by people who make mistakes and go overdrawn, many of whom are the least well-off and the least well-informed customers.
The issue of "free" banking was addressed in the Independent Commission on Banking - the Vickers report .
It's recommended that customers' annual statements explain the amount of "interest foregone" by a customer. This will be put into place next year.
Interest foregone is calculated by subtracting the amount of interest earned from a current account from the amount of interest that could be earned had the consumer put his or her money in an account which earns higher interest, or put some of that money in savings.
"There would be real value in establishing a more open and honest relationship between banks and their customers on what they get, how much it costs and whether others are offering better value for money," said Mike O'Connor, chief executive of watchdog Consumer Focus.
"What must not happen is that consumers end up with the worst of both worlds - paying for accounts but still enduring unfair charges, opaque and complex products, mis-selling and poor customer service."