Chinese manufacturing activity 'contracts in May'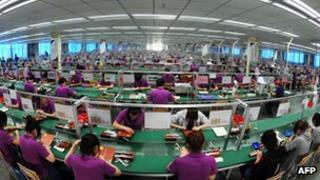 China's manufacturing activity contracted in May, a survey has shown, indicating that the rate of growth in the economy is continuing to slow.
The HSBC Purchasing Managers' Index (PMI) fell to 48.7 from 49.3 in April.
The data comes amid fears that a global economic slowdown may hurt demand for China's exports in key markets such as the US and Europe.
The PMI is a key indicator of manufacturing activity and a reading below 50 indicates contraction.
The HSBC index has remained below that mark for seven straight months now. The official PMI data for May is expected to be released in the first week of June.
'Slew of measures'
China's economic growth has been slowing, but there are fears that the slowdown may be faster and bigger than previously expected.
China's government has pledged that it will take fresh measures to boost domestic consumption and investment to ensure that the economy continues to grow at a robust pace.
Analysts said the slowdown in manufacturing may see Beijing step up those efforts even more.
"Policymakers have been and will step up easing efforts to stabilise growth, as indicated by a slew of measures to boost liquidity, public housing and infrastructure investment and consumption," said Qu Hongbin, HSBC's chief economist.
Mr Qu added that once these measures start to take affect, the fears of a sharp slowdown were likely to abate.