Burberry's profits jump amid global expansion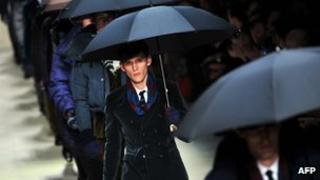 Upmarket fashion retailer Burberry has reported strong growth in annual profits as it continues to expand around the world.
Pre-tax profits were up 24% to £366m , with sales also up 24% to £1.86bn.
The company, which has been expanding fast in emerging markets where luxury items are highly sought-after, said the Asia Pacific region accounted for 37% of both retail and wholesale revenue.
The firm plans to invest £200m this year and open 12-14% more space.
In the past year it has opened 23 stores, including flagship outlets in Hong Kong, Taipei and Paris.
The 156-year-old company, which became most famous for its trench coats and its camel, red and black check pattern, said underlying sales had grown by 15% across Europe but were up 41% in the Asia Pacific region.
It said its strategy of focusing marketing on outerwear had paid off, although its biggest division is non-clothing items which accounts for 39% of revenue.
Despite the profit rise, shares were down about 3.5% in midday trading.
The head of equities at Hargreaves Lansdown Stockbrokers, Richard Hunter, said part of the fall could be accounted for by investors locking in their gains by selling after a recent rise in the share price.
"A combination of profit taking after the recent rally, a weak broader market and results which were slightly shy of expectations has driven the price sharply lower in early trade. Yet the numbers themselves are robust."
Rival British fashion brand Aquascutum fell into administration earlier this year before being bought by a subsidiary of Hong Kong-listed YGM Trading.