Lenovo profits rise on China sales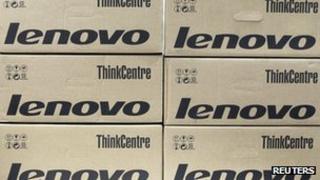 Lenovo, the world's second largest PC maker, has reported a big rise in annual profits thanks to strong demand for its products in China.
Beijing-based Lenovo made $473m (£300m) in the year to 31 March, compared with $273m in the previous year.
Lenovo saw its global PC shipments increase by 35%.
However, the firm is facing challenges as consumers switch from desktop and notebook computers to devices such as smartphones and tablets.
A shortage of hard disk drives because of floods in Thailand last year also posed problems.
Last year, Lenovo overtook Dell to rank second behind Hewlett Packard in global PC sales.
"Although challenges to worldwide PC demand remain, Lenovo remains optimistic that its growth momentum will continue," the company said in a statement.
Shift
The company derives almost half its sales from China, where Lenovo is targeting consumers and businesses in smaller cities and rural areas where fewer people own PCs.
Growth in Europe and Japan has been driven by the acquisition of German electronics firm Medion and a joint venture with Japan's NEC.
To compete with the likes of US tech giant Apple, whose products are massively popular in China, Lenovo has been developing smartphones and tablet computers, but with limited success.
Earlier this month, it launched a smart TV, attempting to get a head start on Apple, which is expected to launch a similar product soon.