World Bank: East Asia 'vulnerable' to eurozone crisis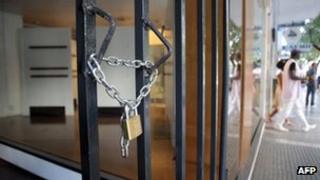 The eurozone debt crisis could harm the growth of East Asian economies, the World Bank has warned.
The bank said that a "serious disruption" in the eurozone could hurt growth and dent demand for exports from East Asia.
It said that East Asian countries need to boost domestic demand to rebalance their economies and sustain growth.
The bank warned that a faster-than-expected slowdown in China was also a threat to the region's growth.
"A slowing China - which comprises 80% of developing East Asia's gross domestic product - is a drag on growth across much of the region given China's growing role as an export destination and source of foreign investment," the bank said in its latest report.
"In particular, a slowing in Chinese investment will primarily hurt demand for commodity and capital goods and particularly impact natural resource exporters that are heavily reliant on Chinese demand."
Slowing growth
The World Bank said that it expects growth in East Asian economies to slow in the current year.
It has forecast the region to grow by 7.6% in 2012, down from 8.2% last year, not least because of falling demand from key export markets such as the US and Europe.
"Prospects for East Asia are, as in other developing regions, weighed down by the persistent tepid recovery of the US and, most particularly, the uncertainty in Europe," the bank said.
It warned that growth in the region may slow even further if global economic conditions worsen.
"The prospects for growth in developed markets, and the potential impact that a renewed global recession would have on trade and capital flows, has heightened uncertainty about the growth prospects in Europe, Japan, and much of East Asia."