Japan exports rise less-than-forecast in April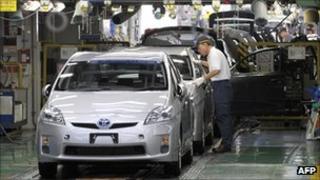 Japan's exports rose less-than-forecast in April hurt by a drop in shipments to China and Western Europe.
Exports rose by 7.9% from a year earlier. Most analysts had forecast growth of close to 12%.
Shipments to China, Japan's biggest trading partner and Western Europe, one of its key markets, fell by more than 7%.
Analysts said the eurozone debt crisis coupled with a slowdown in China may hurt Japan's exports going forward.
"As exports to China remain weak, the possibility of a prolonged slump in China's economy is a source of worry for Japan's economy," said Yuichi Kodama an economist with Meiji Yasuda Life Insurance.
"Looking ahead, whether Japan's exports steadily recover or not will depend on developments in Europe's debt crisis."
Slow recovery?
Another key factor according to analysts is the fact that the latest export numbers are being compared to a low base.
Japan's exports, especially that of cars and electronic goods, dropped in April last year after the earthquake and tsunami in March caused extensive damage to infrastructure and disrupted supply chains.
While exports of cars have started to recover robustly, rising by as much as 220% in April from a year earlier, other key sectors continue to struggle.
Shipments of manufactured goods, machinery and electrical equipment all fell during the month, dragging down overall export figures.
"Considering falls in exports last April after the quake, it would have been natural if exports had risen by a double-digit percentage," said Yasuo Yamamoto a senior economist with Mizuho Research Institute.
The latest numbers indicate that the recovery in Japan's exports has been slower than expected.
"The pace of recovery in exports appears to be slow. And it is too early to say that exports have returned to pre-quake levels," Mr. Yamamoto said.