SAP buys US cloud computing firm Ariba for $4.3bn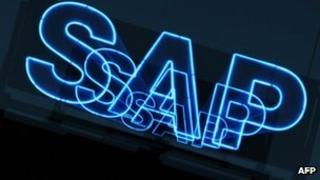 The German business software firm, SAP, has announced that it is to acquire US software maker, Ariba.
The deal, valued at $4.3bn (£2.7bn; 3.4bn euros) marks a big push by SAP into the world of so-called cloud-computing.
Ariba makes web-based software that connects suppliers and buyers online.
SAP, the world's biggest software maker is competing against US rival Oracle for dominance of 'the cloud', where growth is set to soar in future.
"The cloud has profoundly changed the way people interact," said SAP co-chief executives Bill McDermott and Jim Hagemann Snabe said in a statement .
"Cloud-based collaboration is redefining business network innovation, and we are catching this wave in the early stage of its evolution."
'Good fit'
More and more businesses are turning to the cloud, essentially the internet, for their software needs.
Thousands of companies now use software that is hosted on remote servers and accessed via the internet because it removes the need for them to install and maintain software in-house.
According to some estimates software delivered via the web (cloud), is expected to grow five times as quickly as sales of programmes installed on business premises.
Analyst Kirk Materne with Evercore said that SAP and Ariba complement each other well.
"Ariba is a fairly unique asset that would seem to be a good fit with SAP's revamped cloud strategy," he said.
Ariba is the second largest cloud vendor by revenue, according to SAP, and some analysts believe that a rival bid for the California based firm could be forthcoming.
"There's a history of bidding wars between SAP and Oracle and this is exactly the kind of strategic company that would spark something like that," said analyst Richard Williams at Cross Research in the US.