Eurozone biggest threat to global outlook, OECD says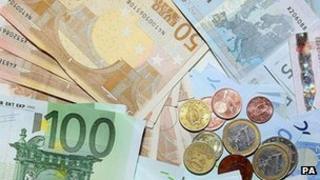 The eurozone crisis is the single biggest threat to the global economy, according to the Organisation for Economic Co-operation and Development.
The economy of the 17 nations that use the euro will shrink 0.1% this year, before rebounding to 0.9% growth next year, the OECD predicts.
By contrast, the US economy will expand by 2.4% this year and 2.6% in 2013.
The OECD also seemed to back calls by some Europeans to combine spending cuts with measures to boost growth.
"The crisis in the eurozone remains the single biggest downside risk facing the global outlook," said OECD chief economist Pier Carlo Padoan.
In November last year, the organisation warned of a "deep recession with large negative effects for the global economy" if the eurozone did not tackle the crisis.
On Tuesday, it said: "The immediate dangers of such developments have receded somewhat since last autumn, although... the dangers have not disappeared.
"Failure to act today could lead to a worsening of the European crisis and spillovers beyond the euro area, with serious consequences for the global economy."
The OECD predicted that the UK would grow by just 0.5% this year and by 1.9% in 2013. This comes after figures showed that the UK had returned to recession in the past two quarters.
'Growth-friendly'
Ahead of an informal summit of European Union leaders in Brussels on Wednesday, the OECD seemed to back calls from the new French president to enact measures such as "increasing European Investment Bank funding for infrastructure projects".
It also said that "better use" could be made of the European Central Bank's balance sheets and called for "a further easing in the euro area".
"Fiscal consolidation and structural measures must proceed hand in hand, to make the adjustment process as growth-friendly as possible," the OECD said.
The organisation expects the unemployment rate to stay high in the euro area - 10.8% this year and above 11% next year.
The jobless rate is currently 10.9%, the highest since the euro was formed in 1999.
Mr Padoan also noted the backlash against austerity measures across Europe, which has seen street protests and led to the election of Francois Hollande.
In elections earlier this month, the majority of Greeks voted against those parties backing the drastic austerity measures that had been agreed with the EU.
"Elections in a number of euro-area countries have signalled that reform fatigue is increasing and tolerance for fiscal adjustment may be reaching a limit," he said.
"Rising unemployment and social pain may spark political contagion and adverse market reaction", with countries outside the euro also at risk of being hit, he added.
The OECD is an organisation that consists of 34 countries, including the US and Western European nations.