Vodafone profits hit by European weakness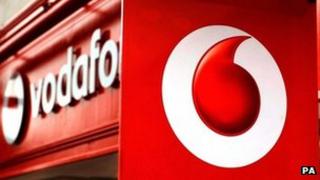 UK mobile phone giant Vodafone has reported flat profits after being hit by the economic downturn in Europe.
The company said it had written down the value of its assets in Italy, Spain, Portugal and Greece by £4bn.
It said the region's economic weakness, together with a tough regulatory environment, had made revenue growth in Europe "increasingly challenging".
Pre-tax profits for the year to 31 March were £9.549bn, up 0.5% from £9.498bn the year before.
'Broad divide'
Vodafone said that its financial performance for the year had been "steady", adding that its operations in the main emerging markets had enjoyed a "strong year". Service revenues grew by 19.5% in India.
However, it added: "The tough macroeconomic and regulatory environment in much of Europe has made revenue growth in that region increasingly challenging.
"As in the prior year, we saw a broad divide between the more stable major markets of northern Europe, with Germany, the UK and the Netherlands all growing; and the much weaker markets of southern Europe, with Italy and Spain suffering from strong competition and a very poor macroeconomic environment."
Revenue across the group rose by 1.2% to £46.4bn, but the company warned that revenue growth might miss expectations in the current financial year.
"Given larger regulatory reductions than previously envisaged, we now expect organic service revenue growth in the 2013 financial year to be slightly below our previous medium term guidance range," Vodafone said.
The company had previously forecast revenue growth of between 1% and 4%.
Vodafone said its revenues from data services had risen by 22% over the year, and now accounted for 14.5% of its service revenues.
The increase in data services comes as more customers use smartphones to access the internet and email, and Vodafone said 45% of its contract customers in Europe were now using smartphones.
Richard Hunter, head of equities at Hargreaves Lansdown Stockbrokers, said: "Even though southern Europe threatened to spoil the party, Vodafone's scale and reach won through.
"The results are in line with expectations and show particular strength in its preferred strategic areas, such as data and emerging markets."
Last month, Vodafone agreed to buy telecoms group Cable & Wireless Worldwide in a deal valuing the firm at just over £1bn. The takeover will add a UK fixed-line network to Vodafone's existing mobile network.