HSBC cash machines hit by IT failure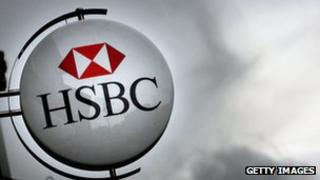 UK customers of HSBC have reported problems using cash machines, making card payments and online transactions with HSBC cards.
The bank said an IT failure meant "a small minority" of customers could not withdraw cash or pay for goods.
The bank said ATM and debit card transactions had since been restored after the failure just after 19:00 BST.
Some customers may still experience problems as the bank's systems are reset, a spokesman said.
"For a short period of time this evening, an IT hardware failure which supported some ATM and debit card transactions meant that a small minority of HSBC customers were unable to withdraw cash or pay for goods," a spokesman said.
"We are very sorry for the inconvenience caused to customers, we have worked as quickly as possible to restore our service and both are now available again."
Earlier the bank said the issue was UK-wide, but it did not know how many customers were affected.
'Nightmare'
Customers have contacted the BBC to report problems with the bank's cash machines.
James Jackson in Victoria, London, wrote in a text: "HSBC banking service is down for customers. Again....! Stranded in central London with no access to cash and HSBC helpline not answering."
Liz Larvin, a spokeswoman for the British Chambers of Commerce, tweeted: "Last Sunday #HSBC Internet banking down. This Sunday I can't withdraw cash or pay by debit. Argh."
Luke Flacks, tweeted from Huddersfield: "Apparently there is a worldwide problem with HSBC debit cards at the moment and that's why I can't use my card for an hour... #Nightmare."
HSBC's UK press office tweeted: "If any customers are still experiencing issues, please contact customer services so we can help 08457 404404."