Q&A: Is Santander UK a safe bank?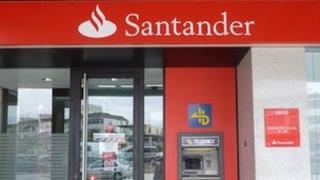 The relative credit-worthiness of Santander UK - the country's fifth biggest High Street bank - has been questioned by one of the main financial credit rating agencies, Moody's.
It has downgraded the UK bank along with the credit rating of 16 Spanish lenders, in the light of the huge debts of that country's banking system.
The downgrades included Santander's parent, Banco Santander, one of Spain's biggest banks.
Last week, the Spanish government had to partially nationalise Bankia, the country's fourth biggest lender, to stop it being tipped into insolvency by its massive losses on past property loans.
It has also had to ask its eurozone partners for billions of euros in loans to help its banking sector.
I have money in a Santander UK account, is it safe?
Yes, the UK bank is in no imminent danger of going bust.
And if the worst did happen, savers would have substantial protection for their money under the Financial Services Compensation Scheme (FSCS) which covers the first £85,000 of someone's savings in a bank.
What did Moody's actually say about Santander UK?
Moody's thinks that the UK operation is, in fact, in a healthier position than its parent.
Despite the downgrade, the rating for Santander UK is still higher than that for Banco Santander. A position shared by all the three main ratings agencies.
Moody's said the UK bank benefited from "general funding independence" from Banco Santander, pointed out that it was "a systemically important bank in the UK" and also that it had "no direct exposure to the Spanish government (or regional governments)".
"Moody's believes there is a low likelihood that the Financial Services Authority would allow Santander UK to substantially weaken itself in order to support the parent," it concluded.
So what does the downgrading mean?
In practice it will make it a bit more expensive for Santander to borrow money from investors and other lenders in the wholesale financial markets.
It is important to note that Santander's rating, according to all three of the main ratings agencies, is still very similar to all the other big UK banks.
So current account holders have nothing to worry about?
Not on account of the situation in Spain. Santander says it is an autonomous, stand-alone, subsidiary.
The big point here is that the Spanish parent bank cannot, at the press of a button, suck all the money out of its UK operation to prop up its business there.
"Effectively we are a bank with one shareholder - Banco Santander," explained a bank spokesman in London.
"The only way to get their hands on the money here would be by a large dividend.
"That would only happen with the permission of the FSA - and they would only allow it if there was still sufficient money in the UK bank to meet its requirements," he stressed.
Come on, big banks can go bust, can't they?
Yes they can, as we all now know.
Just recall the recent history of Northern Rock, which ended up being nationalised by the government. And the financial crisis also led to RBS and Lloyds Banking Group being part-nationalised.
But Santander UK points out that its finances are based on the banks it took over here, such as Abbey, Alliance & Leicester, Bradford and Bingley and, shortly, the 318 banches being sold to it by RBS.
This means that 90% of all its lending is to people and businesses in the UK, with less than 1% of its loans being to governments elsewhere in Europe, mainly the Swiss government.
"We are the most British of British banks," said the Santander spokesman, proudly.
I am still a bit worried, what should I do?
In the UK, savers have protection organised by the FSCS, in the event that a bank or other financial services company goes bust.
For depositors, the protection means that they can keep up to £85,000 in Santander UK without fear of losing it if the bank were to become insolvent.
So if you have more money than that stashed in the bank you might like to think of moving some elsewhere.
As the old saying goes, do not keep all your eggs in one basket.