Private rents rise again, says LSL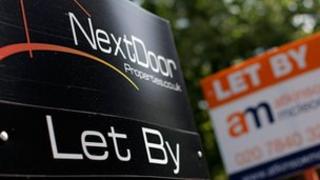 Private rents in England and Wales rose by 0.5% in April, according to letting agency group LSL Property Services.
That pushed the average rent up to £709 a month.
It was the first recorded increase for three months, and left rents 2.4% higher than a year ago.
Rents are highest in London, where they have risen by 4.5% in the past year to an average of £1,032 per month, a rise that has left them 46% higher than the national average.
The figures are gathered from the rents paid on 18,000 homes.
David Newnes of LSL said the rental market had begun to "heat up" in April.
"As fewer tenants rushed to leave the sector, competition for rental accommodation intensified, and rents rose correspondingly," he said.
"Tenant demand will only strengthen, providing impetus for rental inflation in the long-term."
LSL noted that the level of arrears among tenants had become worse again, with nearly 10% of all rents late or in arrears.
"Many tenants' finances suffered in April as a result of seasonal spending over the Easter period, not to mention the increasing cost of renting," said Mr Newnes.
"Despite several monthly dips in 2012, rents are still rising at a faster rate than wages annually.
"With a faltering economy, and further public sector job losses to come, an increasing number of rented households will see their finances stretched," he warned.