Facebook: Can Mark Zuckerberg crack the Chinese market?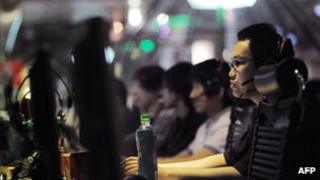 The numbers behind Facebook are staggering: more than 900 million users, 300 million photos uploaded everyday, available in more than 70 languages and a valuation of close to $100bn (£60bn).
Here is one more to add to that list.
Zero: which is its share of the world's biggest internet market, China.
It is a statistic that Facebook may struggle to ignore, especially as it will be looking to expand to justify its valuation and China has some 500 million internet users.
Analysts say the longer Facebook takes to enter China, the harder it will become for the firm to crack the market.
"The point is that they have already missed out on it," Michael Clendenin of Red Tech Advisors in Beijing tells the BBC.
"They will be naive to think that just because they are Facebook they will be able to come in and capture the market."
Great Firewall
China already has a thriving and fast-growing social networking market and the sector is controlled by domestic players.
The so-called Great Firewall of China means Facebook cannot be accessed from within the country.
As a result, and in the absence of Facebook and micro blogging firm Twitter, local players such as Renren and Sina Weibo have been given a head start in the market.
Renren which is often labelled "China's Facebook" has 154 million users while Sina Weibo, a local equivalent of Twitter, has 300 million, more than twice as many as Twitter.
And while foreign companies may find it tough to catch up, there is another factor that may make it even more difficult for them to operate in China, and that is censorship.
Currently, some internet users get around China's firewall by using virtual private networks. However, their numbers are negligible.
The vast majority access social networking through the Chinese system and that means the companies and administrators need to censor the information that is uploaded.
They are required by the authorities to block or remove any material that may be considered sensitive.
Compromise?
Analysts say that if Facebook wants China to allow access to its website it will have to abide by these censorship rules, something the US firm is wary of doing.
"It is impossible to say that they will compromise on these issues. It will be a significant sacrifice they will be making," says Mr Clendenin.
"Even their users outside China may find it odious that they made these compromises just to get into the market.
"They don't have any way to predict how that compromise may impact them down the road and irreparably damage their reputation."
So is there a way for the Mark Zuckerberg-led firm to enter China?
Some analysts say the way out may be for Facebook to launch a service specifically designed for China.
"China is so big that it justifies having something different," Duncan Clark of consultancy firm BDA tells the BBC.
"Being successful in China means, tailoring your product to fit the Chinese market and having decision making capabilities in China."
The other option is for Facebook to join hands with a local partner and let them deal with the government authorities while it runs the overall operations.
Political battles
However, analysts say that in both the above cases it will still have to still follow the censorship rules, a move that may see the firm lose its appeal to consumers.
"The real question is what would they be in China," says Jon Russell of The Next Web.
"If they launched a dedicated service for China, would there be any incentive for local people to join in?"
The fact that China is set to have a change of political leadership this year is likely to make it more difficult for the likes to Facebook to enter its market.
Social networking sites played a key role in recent political upheavals in the Middle East and North Africa.
Analysts say those developments have only made Beijing's resolve stronger to tighten the noose around such websites.
They explain that the new leaders will like to stamp their authority and show that they mean business by ensuring that censorship guidelines are strictly followed.
"It is highly unlikely that China will unblock Facebook anytime soon, given that the country is going through a leadership change and some politically sensitive times," says Mr Clark of BDA.
Life without China?
Some analysts say that given the situation in China and the fact that local players have already captured such a big share of the market, Facebook should channel its resources elsewhere.
"I think they are better off investing their time in improving their mobile offering," says The Next Web's Mr Russell.
The company has already listed the sector as a risk to its future growth saying that it does "not currently directly generate meaningful revenue" from its mobile products.
And with more and more people accessing the site through smart phones, it is an area of concern.
Analysts say Facebook may find it easier to increase its revenues from mobile subscribers, than to enter and be successful in the Chinese market.
They say that a substantial jump in mobile revenue will also help it offset any lost opportunities in China.
However, while Facebook may be able to financially make up for its lack of presence in China, its vision may remain unrealised.
"Mark Zuckerberg wants to connect the world - that is his vision - if Facebook hasn't got China, he hasn't connected the world," says Beijing-based Bill Bishop of DigiCha.