Female unemployment: Why has it been rising rapidly?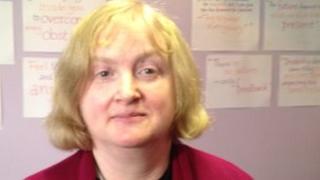 Unemployment has fallen and that is certainly good news for those who have been hunting for jobs.
But the jobless total is still high and it is hard to tell where it will be in the second half of this year.
Beneath the headlines are many puzzling aspects of the jobs market, one of which is that female unemployment has been rising a lot faster than the male total.
So why does it seem that the hunt for jobs is harder for women than men?
Patricia Campbell, from Edinburgh, is a former teacher.
Aged 51, she left her teaching job four years ago to look for other job opportunities.
Ms Campbell has been volunteering with various advice charities but has failed so far to land a paid job.
She recently turned to an Edinburgh-based charity - Women Onto Work - for help and support in finding work.
She has been claiming Jobseeker's Allowance for 12 months and believes some employers still have ageist attitudes that can work more against women than men.
"Sometimes when women hit 50, they can become invisible," she observes.
"Employers see hitting 50 as being a negative, instead of a plus. Instead of saying this person - this woman - has got a lot of experience, life experience and work experience, to bring to an employer... it's a negative, a minus."
'Great in theory'
Jessica Beale, who is in her 30s, has a son at primary school and is his sole carer.
She needs to find work which will allow her to fit in her childcare commitments.
But Ms Beale says that is a real struggle in the current economic climate.
"Although I think flexible working is great in theory, there are very few jobs out there anyway," she says.
"So, I don't think that somebody is going to give me a job if I need flexible hours whereas somebody else can come in and do the hours they want."
The latest official figures reinforce the idea that life is tough for female jobseekers.
There are 1.5 million men out of work, and 1.1 million women, according to the latest figures from the Office for National Statistics.
But looking at the relative changes reveals widely differing experiences.
Male unemployment in the three months to March 2012 was down 42,000 on the previous quarter, but the equivalent fall for women was just 3,000.
Over the year to the first quarter of 2012, the male jobless total was up 78,000, that's a 5.4% increase.
But the figure for women was up 92,000, an increase of 9%.
Higher education gamble?
Rose McConnachie, 27, has a degree and postgraduate qualifications from Edinburgh University.
She cannot find any work relevant to her training in psychology and criminology, so has widened her search for any paid work.
But she has drawn a blank.
Ms McConnachie is increasingly frustrated that her higher education has not helped with the search for a job.
"I thought I was investing but it seems like I've taken a gamble," she says.
"I mean, I'm great! I'm very clever, I'm very talented, I've got a lot of transferable skills and I'm very employable, but there just doesn't seem to be anywhere for me to be utilised for anyone's benefit."
Ideas and ability
So are there any brighter signs on the horizon for female jobseekers?
Anna Louise Simpson believes there are.
She set up Mama Tea when she was at home looking after her young children.
Ms Simpson sells caffeine-free herbal teas, targeting expectant and new mothers looking for healthy options.
Sales have grown strongly. She has taken on one employee and will soon take on three more.
Ms Simpson believes female employees have a lot to offer and she is happy to employ staff on flexible hours, fitting in with childcare commitments. What's more, she is urging more women to set up their own businesses.
"I think we need to give more help and support to female entrepreneurs because these women have got the ideas and they've got the ability but at the moment, a lot of them don't have the confidence," she says.
"So, we need to support them both in starting up businesses and growing them... and they will create the jobs."
Creating the jobs is what will bring down unemployment, for both men and women.
The message from Edinburgh is that with a bit more imagination, employers can think harder about the benefits offered by female staff.